Ga naar zoeken
Ga naar hoofdinhoud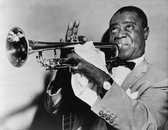 Louis Armstrong
"Louis Daniel Armstrong (New Orleans, 4 augustus 1901 - New York, 6 juli 1971) was een Amerikaans jazztrompettist, zanger en entertainer. Zijn bijnaam was Satchmo of Satch, een afkorting voor Satchelmouth (buidelmond). Hij was ook bekend als Dippermouth, net als Satchmo een referentie aan zijn grote mond. Door vrienden en collega's werd hij meestal aangesproken met Pops, een naam die hij zelf ook voor anderen gebruikte (met uitzondering van Pops Foster, die hij steevast George noemde). Hoewel zijn carriëre begon in de jaren twintig, kennen zelfs huidige generaties hem nog van nummers als What a Wonderful World, Hello Dolly en It Takes Two to Tango, die hij met zijn karakteristieke, rauwe stem vertolkte. Armstrong beweerde publiekelijk altijd dat hij niet wist wanneer hij jarig was, maar dat hij het altijd vierde op 4 juli (de Amerikaanse Onafhankelijkheidsdag). Armstrong gaf als jaar van zijn geboorte meestal 1900 op, behalve op officiële overheidsdocumenten (daarin staat 1901). Zijn geboortedatum (4 augustus) werd later teruggevonden door muziekhistoricus Tad Jones in de dooparchieven van de rooms-katholieke kerk waar Armstrongs grootmoeder hem had laten dopen. Deze datum, ondersteund door andere documenten, wordt tegenwoordig door Armstrong-kenners als juist geaccepteerd. Armstrong was een telg van een arme familie in New Orleans. Ten tijde van zijn overlijden in 1971 werd hij beschouwd als een van de belangrijkste musici van de twintigste eeuw. In een eerbetoon aan Armstrong zei Bing Crosby ""Hij was de enige musicus aller tijden, die niet door iemand anders vervangen kon worden"". Miles Davis zei over hem ""Je kunt niets op een blaasinstrument spelen dat Louis niet al gespeeld heeft"". En Duke Ellington zei ""Hij werd arm geboren, stierf rijk, en heeft in de tussentijd niemand benadeeld"". Bij bol.com hebben we heel veel cd's en lp's van Louis Armstrong waaronder ook het laatse album van Louis Armstrong. <br> <br>(Bron: Wikipedia. Beschikbaar onder de licentie&nbsp; <a rel="nofollow">Creative Commons Naamsvermelding/Gelijk delen</a>.)"
Alle artikelen van Louis Armstrong
CD

Standard Edition

2 stuk(s)

Introductie: 1995-11-20

Compilatie

Uiterlijk 5 april in huis

Levertijd

We doen er alles aan om dit artikel op tijd te bezorgen. Het is echter in een enkel geval mogelijk dat door omstandigheden de bezorging vertraagd is.

Bezorgopties

We bieden verschillende opties aan voor het bezorgen of ophalen van je bestelling. Welke opties voor jouw bestelling beschikbaar zijn, zie je bij het afronden van de bestelling.