Ga naar zoeken
Ga naar hoofdinhoud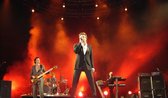 Duran Duran
"Duran Duran is een Britse popband die deel uitmaakte van de stroming new romantic en was de populairste vertolking van die stroming. New romantic is een subgenre van de new wave uit de jaren tachtig. De bandnaam is ontleend aan het personage Dr. Durand Durand uit de cultfilm Barbarella. De groep werd in 1978 in Birmingham opgericht door Nick Rhodes en John Taylor. Na een korte periode met enkele bezettingswisselingen (met onder andere Stephen Duffy op zang), bestond de band uiteindelijk uit Simon le Bon (zang), Nick Rhodes (keyboards), Roger Taylor (drums), Andy Taylor (gitaar) en John Taylor (basgitaar), geen van allen familie van elkaar. Hun debuutalbum Duran Duran uit 1981 bevat een succesvolle mengeling van disco, new wave en op David Bowie geënte pop. Hiermee brak de groep, mede dankzij sterke singles als Planet Earth en Girls On film, direct door in Engeland. In 1982 verscheen het album Rio, waarna ook de rest van de wereld volgde. De van dit album afkomstige single Hungry Like The Wolf betekende hun doorbraak in de VS en de aanstekerballade Save A Prayer werd een wereldhit. De leden van Duran Duran waren vanaf die tijd supersterren. Naast de muziek vielen de videoclips op (die veelvuldig door het opkomende MTV werden gedraaid), evenals de tot in de puntjes verzorgde kleding. Vooral vrouwelijke tieners stonden vooraan bij hun concerten en de Duranmania grensde soms aan hysterie. De tv-special Live! Hammersmith 1982 die in 2009 op dvd werd uitgebracht, laat dit goed zien. In 1983 volgden de single Is There Something I Should Know en het commercieel meest succesvolle album Seven and the Ragged Tiger, met daarop de jaren 80-klassieker The Reflex. De groep ging op wereldtournee, die werd vastgelegd in de rockumentary Sing Blue Silver, de muziekfilm (met bijbehorend live-album) Arena en de tv-special As The Lights Go Down (die in 2010 op dvd verscheen). Bij bol.com hebben we heel veel cd's en lp's van Duran Duran waaronder ook het laatse album van Duran Duran. <br> <br>(Bron: Wikipedia. Beschikbaar onder de licentie&nbsp; <a rel="nofollow">Creative Commons Naamsvermelding/Gelijk delen</a>.)"
Muziek van Duran Duran
CD

Standard Edition

8 stuk(s)

Introductie: 2001-01-01

Compilatie

1-1 –Hot Chocolate No Doubt About It 4:27 1-2 –Leo Sayer More Than I Can Say 3:42 1-3 –Jona Lewie Stop… Meer

CD

2 stuk(s)

Introductie: 1995-02-21

Compilatie

The Ultimate 80's Ballads is een cd van Various Artists… Meer

Uiterlijk 16 juni in huis

Levertijd

We doen er alles aan om dit artikel op tijd te bezorgen. Het is echter in een enkel geval mogelijk dat door omstandigheden de bezorging vertraagd is.

Bezorgopties

We bieden verschillende opties aan voor het bezorgen of ophalen van je bestelling. Welke opties voor jouw bestelling beschikbaar zijn, zie je bij het afronden van de bestelling.