Ga naar zoeken
Ga naar hoofdinhoud
A sermon preached at the anniversary meeting of the governors and contributors to the Devon and Exeter Hospital, at St. Peter's Exon, on Tuesday the 28th of August, 1759. ... By Francis Webber, ...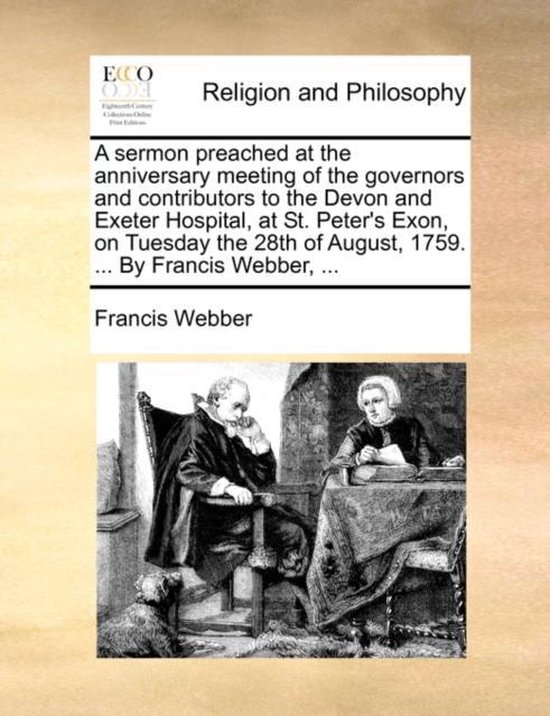 Samenvatting
The 18th century was a wealth of knowledge, exploration and rapidly growing technology and expanding record-keeping made possible by advances in the printing press. In its determination to preserve the century of revolution, Gale initiated a revolution of its own: digitization of epic proportions to preserve these invaluable works in the largest archive of its kind. Now for the first time these high-quality digital copies of original 18th century manuscripts are available in print, making them highly accessible to libraries, undergraduate students, and independent scholars.The Age of Enlightenment profoundly enriched religious and philosophical understanding and continues to influence present-day thinking. Works collected here include masterpieces by David Hume, Immanuel Kant, and Jean-Jacques Rousseau, as well as religious sermons and moral debates on the issues of the day, such as the slave trade. The Age of Reason saw conflict between Protestantism and Catholicism transformed into one between faith and logic -- a debate that continues in the twenty-first century.++++The below data was compiled from various identification fields in the bibliographic record of this title. This data is provided as an additional tool in helping to insure edition identification: ++++British LibraryT002611Exon: printed by Andrew Brice; and sold by Edward Score, 1759. 33, 1]p.; 8
Productspecificaties
Inhoud
Taal

Engels

Bindwijze

Paperback

Verschijningsdatum

mei 2010

Aantal pagina's

38 pagina's

Illustraties

Nee
Betrokkenen
Auteur(s)

Uitgever
Overige kenmerken
Extra groot lettertype

Nee

Gewicht

86 g

Studieboek

Ja

Verpakking breedte

189 mm

Verpakking hoogte

246 mm

Verpakking lengte

246 mm
Je vindt dit artikel in
2 - 4 weken
Levertijd
We doen er alles aan om dit artikel op tijd te bezorgen. Het is echter in een enkel geval mogelijk dat door omstandigheden de bezorging vertraagd is.
Bezorgopties
We bieden verschillende opties aan voor het bezorgen of ophalen van je bestelling. Welke opties voor jouw bestelling beschikbaar zijn, zie je bij het afronden van de bestelling.
Tooltip
Verkoop door bol.com
Gratis verzending door bol.com vanaf 20 euro
Ophalen bij een bol.com afhaalpunt mogelijk
30 dagen bedenktijd en gratis retourneren
Dag en nacht klantenservice