Ga naar zoeken
Ga naar hoofdinhoud
50 Masterpieces you have to read before you die Vol: 2 [newly updated] (Golden Deer Classics)
EBOOK
Tooltip
Ebooks kunnen worden gelezen op uw computer en op daarvoor geschikte e-readers.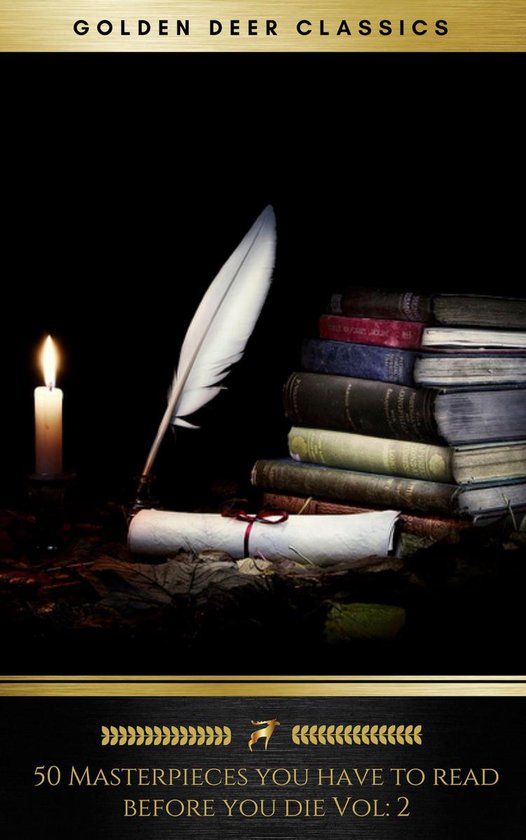 Ebooks lezen is heel makkelijk. Na aankoop zijn ze direct beschikbaar op je Kobo e-reader en op je smartphone of tablet met de gratis bol.com Kobo app.


Lewis Carroll
"""
Lewis Carroll
is bekend van o.a.

Alice in Wonderland en
Alice's Adventures in Wonderland and Through the Looking-Glass.



Lewis Carroll


is

schrijver

.Charles Lutwidge Dodgson was born on 27 January 1832 at the parsonage in Daresbury, Cheshire County, England, the third child and eldest son born to Frances Jane Lutwidge and Anglican Archdeacon Charles Dodgson. They were a large family and very close, strictly adhering to High Church values and morals.
Starting at the age of fourteen he attended Rugby School in Warwickshire until 1849. They were mostly unmemorable years for Dodgson—he caught whooping cough and a case of the mumps. But he was exceptionally gifted and, like his father, excelled in mathematics and won many prizes. He also loved literature and studied such authors as John Bunyan, William Shakespeare and John Ruskin and went on to appreciate many others like Charles Dickens, George Eliot, Samuel Taylor Coleridge, Elizabeth Gaskell, and Lord Alfred Tennyson, who also became a friend. He expressed his creativity in writing poetry and short stories for his own magazines including The Rectory Umbrella which his siblings read to great amusement. Andere die naar Lewis Carroll zochten, zochten ook naar

John Tenniel

,

Floor Rieder

,

Sir. J.M. Barrie

en

Charles Dickens
"""
Samenvatting
This book contains the following works arranged alphabetically by authors last names - Little Women [Louisa May Alcott] - Sense and Sensibility [Jane Austen] - Peter Pan (Peter and Wendy) [J.M. Barrie] - Cabin Fever [ B. M. Bower] - The Secret Garden [Frances Hodgson Burnett] - A Little Princess [Frances Hodgson Burnett] - Alice's Adventures in Wonderland [Lewis Carroll] - The King in Yellow [Robert William Chambers] - The Man Who Knew Too Much [Gilbert Keith Chesterton] - The Woman in White [Wilkie Collins] - The Most Dangerous Game [Richard Connell] - On the Origin of Species, 6th Edition [Charles Darwin] - Robinson Crusoe [Daniel Defoe] - The Iron Woman [Margaret Deland] - David Copperfield [Charles Dickens] - Oliver Twist [Charles Dickens] - A Tale of Two Cities [Charles Dickens] - The Double [Fyodor Mikhailovich Dostoyevsky] - The Hound of the Baskervilles [Arthur Conan Doyle] - The Memoirs of Sherlock Holmes [Arthur Conan Doyle] - The Three Musketeers [Alexandre Dumas] - The Curious Case of Benjamin Button [Francis Scott Fitzgerald] - A Room with a View [E. M. Forster] - Dream Psychology [Sigmund Freud] - Tess of the d'Urbervilles [Thomas Hardy] - Siddhartha [Hermann Hesse] - Dubliners [James Joyce] - The Fall of the House of Usher [Edgar Allan Poe] - The Arabian Nights [Andrew Lang] - The Sea Wolf [Jack London] - The Call of Cthulhu [Howard Phillips Lovecraft] - Anne of Green Gables [Lucy Maud Montgomery] - Beyond Good and Evil [Friedrich Wilhelm Nietzsche] - The Murders in the Rue Morgue [Edgar Allan Poe] - The Black Cat [Edgar Allan Poe] - The Raven [Edgar Allan Poe] - Swann's Way [Marcel Proust] - Romeo and Juliet [William Shakespeare] - Treasure Island [Robert Louis Stevenson] - The Elements of Style [William Strunk Jr.

Productspecificaties
Inhoud
Taal

Engels

Bindwijze

E-book

Verschijningsdatum

augustus 2019

Ebook formaat

Adobe ePub
Lees mogelijkheden
Lees dit ebook op

Android (smartphone en tablet) | Kobo e-reader | Desktop (Mac en Windows) | iOS (smartphone en tablet) | Windows (smartphone en tablet) | Overige e-reader

Ebook formaat

Adobe ePub
Overige kenmerken
Studieboek

Nee
Je vindt dit artikel in