Ga naar zoeken
Ga naar hoofdinhoud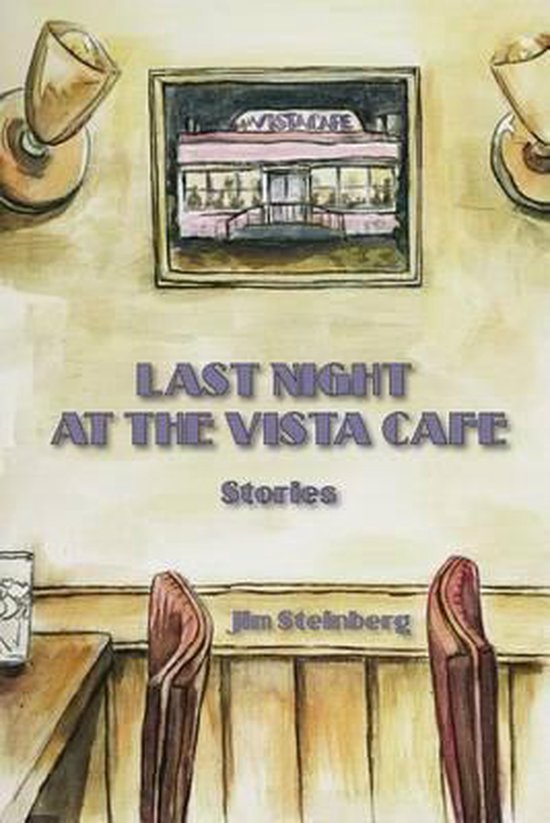 Samenvatting
In ''Last Night At The Vista Café, Stories,'' Jim Steinberg returns to matters of the heart that readers will recognize as much like their own: the bonds and trials of lovers and friends, family members, even chance encounters between strangers. Carefully crafted and set in vividly described places, the stories explore the interiors of everyday people working through the common dilemmas that affect all of us. Jim describes each situation with careful attention to details of character and place. As in his first collection, ''Filling Up In Cumby And Other Stories,'' and in his debut novel, ''Boundaries,'' he aims to show his characters' struggles with nuance, realism and the gentle touch of compassion. He shows their reasonable triumphs with scrupulous honesty. The reader is welcomed into richly detailed evocations of very personal situations. In the title story, a reclusive man tries to get through the closing night of his favorite restaurant and say goodbye to the salty waitress who has ministered to his wishes for seven years. She offers him help he is reluctant to receive. In ''Southern Comeuppance,'' a police sergeant gives his new lieutenant from up East a lesson in how to deal with a homeless man on a cold winter's day. In ''Bones,'' a long-divorced couple reaches an unexpected closure as they talk on the phone about burying the family cat. In ''Her Way,'' a somewhat imperious but gracious mother, on her deathbed but still sharp as a tack, struggles to show two generations of her large family, gathered around her, the right way to die. In ''Flat Tire,'' a college teacher stuck on the side of a mountain road is bailed out by a former student, a young Indian, and given an unexpected lesson in how to deal with disappointment. In ''Movin' Up,'' a working class girl struggles to decide whether a well-to-do college boy is interested in more than her body. With the help of her grandmother, she strengthens herself against her alcoholic mother who hates ''college boys.'' ''Lost And Found,'' presents a man who feels threatened by a posturing gang of young men at a gas station in a poor neighborhood. He gets unexpected help from what he thinks, based upon appearance, must be one of the most important figures in that part of town. In the process he must deal with his also unexpected prejudice. In ''Jenna's New Refrigerator,'' a man visiting his crotchety old uncle for perhaps the last time must deal with the return of desire for and from his cousin. Much to the irritation of her father, who knows where she has gone, she arrives late for their reunion with a big surprise. It is rich in the cousin's important backstory.In ''Last Chance,'' readers see a son playing golf with his father for what is certain to be the last time. The son must deal with his robust father's weakened state and his request for the truth about an old lie. In ''Her Bower Bird,'' a man with great affection for a woman he describes as a ''flutterby'' because of how often she comes and goes and the shortness of her visits learns why he is her bower bird and what he must do to keep her without keeping her. In ''First Passage,'' a teenage boy must deal with his first great lesson: the death of his best friend whose illness he cannot accept because of what he believes to be its origins. In ''Milt's Advice Booth,'' a man repeatedly mistaken for someone else when he has breakfast in his favorite restaurant starts playing along with his misidentification as a therapist, eventually facing the trouble of being discovered.Each story is a moving depiction of people in very personal situations. Clearly and sensitively written, they are, like those in ''Filling Up In Cumby,'' meant to be savored one at a time.
Productspecificaties
Inhoud
Taal

Engels

Bindwijze

Paperback

Verschijningsdatum

2014-05-23

Aantal pagina's

166 pagina's

Illustraties

Nee
Overige kenmerken
Extra groot lettertype

Nee

Gewicht

249 g

Oorspronkelijke releasedatum

2014-05-23

Verpakking breedte

152 mm

Verpakking hoogte

10 mm

Verpakking lengte

229 mm
Je vindt dit artikel in
Verwacht over 10 weken
Levertijd
We doen er alles aan om dit artikel op tijd te bezorgen. Het is echter in een enkel geval mogelijk dat door omstandigheden de bezorging vertraagd is.
Bezorgopties
We bieden verschillende opties aan voor het bezorgen of ophalen van je bestelling. Welke opties voor jouw bestelling beschikbaar zijn, zie je bij het afronden van de bestelling.
Tooltip
Verkoop door bol.com
Gratis verzending door bol.com vanaf 20 euro
Ophalen bij een bol.com afhaalpunt mogelijk
30 dagen bedenktijd en gratis retourneren
Dag en nacht klantenservice