Ga naar zoeken
Ga naar hoofdinhoud
Oklahoma Almanac of Facts & Humor: Part 2 - Okarche to Zafra
EBOOK
Tooltip
Ebooks kunnen worden gelezen op uw computer en op daarvoor geschikte e-readers.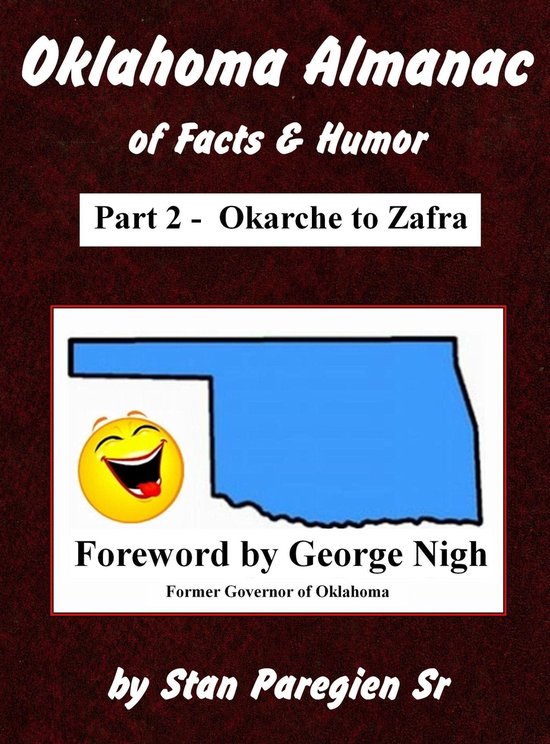 Ebooks lezen is heel makkelijk. Na aankoop zijn ze direct beschikbaar op je Kobo e-reader en op je smartphone of tablet met de gratis bol.com Kobo app.


Samenvatting
Stan Paregien's Oklahoma Almanac of Facts & Humor: Part 2 - Okarche to Zafra contains lots of historical information about the state of Oklahoma and its people. It contains so much information--facts, photos, prominent people and humorous stories--that it had to be divided into two parts. So this is Part 2. Part 1 covers the towns of Achilee to Nowata.


However, folks, this ain't your grandpa's dry, boring history book. No, siree. The author tells the unique stories of 148 Oklahoma cities and towns and villages (both Parts). All of the towns which are county seats in Oklahoma's 77 counties are covered, plus 71 others. And he writes about each town with a conversational style which is warm, inviting and consumer friendly. He makes a concerted effort to identify pominent people associated with each town.


The author also includes 183 photos and/or graphics (total for Parts 1 and 2; most in color), such as photos of George Nigh, Donna Nigh, Gene Autry, Blake Shelton, Virgil R. Trout, Reba McEntire, Anita Bryant, Ree Drummond, Henry Bellmon, Shirley Bellman, Jody Miller, Allen Wright, Tom Paxton, Kristin Chenoweth, Bob Burke, Carl B. Albert, Bertha Frank Teague, Bill Tilghman, Carrie Underwood, Debra Coppinger Hill, Black Kettle, Frank Lucas, Patti Page, Billy Vessels, Gregory E. Pyle, Stan Hoig, Susan Powell, Robert H. Rowland, J.C. Watts, Maria Tallchief, Marjorie Tallchief, Ben Johnson, Stan Paregien, Jana Jae, Byron Berline, Daniel Paregien, James K. Hitch, Dale Robertson, Tim Holt, Paul Waner, Jim Shoulders, Tommy Franks, T. Boone Pickens, Darrell K. Royal, Bill Grant, Sam Walton, Melvin B. Tolson, Jane Jayroe, M. Scott Momaday, Lauren Nelson, Roberta Paregien, Steve Owens, Clarence Tinker, Tom Coburn, James Garner, Sherri Coale, Father Stanley Rother, Peggy Paregien, Martha Russell, Darrell Russell, Woody Guthrie, Patience Latting, Edgar Cruz, Will Rogers, Wiley Post, Clara Luper, Will Sampson, William Gordon Lillie (aka ''Pawnee Bill''), Dan Hodge, and Chief Standing Bear.


Also included are photos of Bill Pickett, David Meyers, Les Gilliam, Martha Gilliam, Jim Thorpe, Overton James, John Hope Franklin, D.C. Minner, Sequoyah, Steve Davis, Barry Switzer, Charles Page, Marques Hayes, Gary England, Enoch Kelly Haney, Gordon Cooper Jr, Dan Boren, Kata Hay, William Grady Stigler, Mike Gundy, Gene Paregien, Stacy Paregien, Wilma Mankiller, Wes Studi, Bob Blackburn, Kings of Leon, Mary Copeland Fallin, LaDonna Tabbytite Harris, Miranda Lambert, John Wooley, Guy Logsdon, Fred R. Harris, Abe Lemons, Sam Bradford, Thomas Stafford, Leonard M. Harjo, Temple Houston, Roy Milton, J.W. Parker, Mary Jo Parker, and Garth Brooks. And there are even more. Obviously, it would be cost-prohibitive to include so many photos--particularly color photos--in a traditional printed book; but not so for an EBook.


Next he finds ways to inject a humorous incident into each and every town listing. And, as an experienced radio personality and a performer of cowboy stories and poetry, he brings a wagon load of them for the reader to enjoy.


You may want to download a copy for your desktop as a handy reference source, plus copies for your smart phone and/or your laptop so that when you go traveling across Oklahoma you'll have this information right at your fingertips. It would also make a delightful gift for visitors to Oklahoma, as well as for those who have had to move out-of-state and would appreciate a reminder of their favorite state. Or consider making it a gift to those you know who need a little humor and sunshine in their life.


The author promises to cover virtually all of the towns in Oklahoma in a revised edition planned for three years or so from now. But for now, don't forget to also download Part 1 - Achille to Nowata.

Productspecificaties
Inhoud
Taal

Engels

Bindwijze

E-book

Verschijningsdatum

2015-05-10

Ebook formaat

Epub zonder kopieerbeveiliging (DRM)
Betrokkenen
Auteur(s)

Uitgever
Lees mogelijkheden
Lees dit ebook op

Android (smartphone en tablet) | Kobo e-reader | Desktop (Mac en Windows) | iOS (smartphone en tablet) | Windows (smartphone en tablet) | Overige e-reader

Ebook formaat

Epub zonder kopieerbeveiliging (DRM)
Overige kenmerken
Oorspronkelijke releasedatum

2013-05-21
Je vindt dit artikel in
Vergelijk artikelen
Waar wil je dit mee vergelijken? Je kan in totaal vijf artikelen kiezen.

Er is nog plaats voor

andere artikelen.

ander artikel.