Ga naar zoeken
Ga naar hoofdinhoud
The Complete Works of Nathaniel Hawthorne (Illustrated)
EBOOK
Tooltip
Ebooks kunnen worden gelezen op uw computer en op daarvoor geschikte e-readers.
Novels, Short Stories, Poems, Essays, Letters and Memoirs - The Scarlet Letter with its Adaptation, The House of the Seven Gables, The Blithedale Romance, Birthmark… (Including Biographies and Literary Criticism)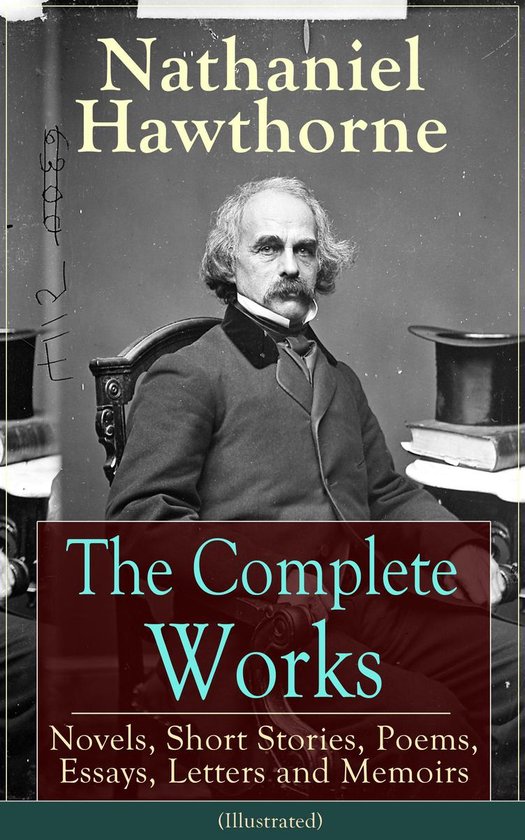 Ebooks lezen is heel makkelijk. Na aankoop zijn ze direct beschikbaar op je Kobo e-reader en op je smartphone of tablet met de gratis bol.com Kobo app.


Nathaniel Hawthorne
Nathaniel Hawthorne was born on July 4, 1804, in Salem, Massachusetts, the son and grandson of proud New England seafarers. He lived in genteel poverty with his widowed mother and two young sisters in a house filled with Puritan ideals and family pride in a prosperous past. His boyhood was, in most respects, pleasant and normal. In 1825 he was graduated from Bowdoin College, Brunswick, Maine, and he returned to Salem determined to become a writer of short stories. For the next twelve years he was plagued with unhappiness and self-doubts as he struggled to master his craft. He finally secured some small measure of success with the publication of his Twice-Told Tales (1837). His marriage to Sophia Peabody in 1842 was a happy one. The Scarlet Letter (1850), which brought him immediate recognition, was followed by The House of the Seven Gables (1851). After serving four years as the American Consul in Liverpool, England, he traveled in Italy; he returned home to Massachusetts in 1860. Depressed, weary of writing, and failing in health, he died on May 19, 1864, at Plymouth, New Hampshire.
Samenvatting
This carefully crafted ebook: "The Complete Works of Nathaniel Hawthorne: Novels, Short Stories, Poems, Essays, Letters and Memoirs (Illustrated)" is formatted for your eReader with a functional and detailed table of contents. Table of Contents: Novels: Fanshawe The Scarlet Letter The House of the Seven Gables The Blithedale Romance The Marble Faun The Dolliver Romance Septimius Felton Doctor Grimshawe's Secret Collections of Short Stories: Twice-Told Tales The Whole History of Grandfather's Chair Biographical Stories Mosses from an Old Manse Wonder Book For Girls and Boys The Snow Image and Other Twice Told Tales Tanglewood Tales For Girls and Boys The Dolliver Romance and Other Pieces, Tales and Sketches The Story Teller Sketches in Magazines Poems: Address to the Moon The Darken'd Veil Earthly Pomp Forms of Heroes Go to the Grave My Low and Humble Home The Ocean Essays: The British Matron: A Satire The Ancestral Footstep: Outlines of an English Romance Life Of Franklin Pierce Chiefly About War Matters Our Old Home Autobiographical Writings: Browne's Folly Love Letters (To Miss Sophia Peabody) Letter to the Editor of the Literary Review American Notebooks English Notebooks French and Italian Notebooks Biographies and Reminiscences of Hawthorne: Biography The Life and Genius of Hawthorne by Frank Preston Stearns Hawthorne and His Circle by Julian Hawthorne Memories of Hawthorne by Rose Hawthorne Lathrop Hawthorne and His Moses by Herman Melville Fifty Years of Hawthorne My Literary Passions by W. D. Howell Life of Great Authors by H. T. Griswold Yesterday With Authors by J. T. Field Hawthorne and Brook Farm by G. W. Curtis Short Biography Essays and Criticisms on Hawthorne and His Works: Hawthorne by Henry James Jr. Nathaniel Hawthorne by Andrew Lang Nathaniel Hawthorne by G. E. Woodberry A Study of Hawthorne by G. P. Lathrop ...
Productspecificaties
Inhoud
Taal

Engels

Bindwijze

E-book

Verschijningsdatum

mei 2015

Ebook formaat

Adobe ePub
Lees mogelijkheden
Lees dit ebook op

Android (smartphone en tablet) | Kobo e-reader | Desktop (Mac en Windows) | iOS (smartphone en tablet) | Windows (smartphone en tablet)

Ebook formaat

Adobe ePub
Overige kenmerken
Studieboek

Nee
Je vindt dit artikel in
Vergelijk artikelen
Waar wil je dit mee vergelijken? Je kan in totaal vijf artikelen kiezen.

Er is nog plaats voor

andere artikelen.

ander artikel.