Ga naar zoeken
Ga naar hoofdinhoud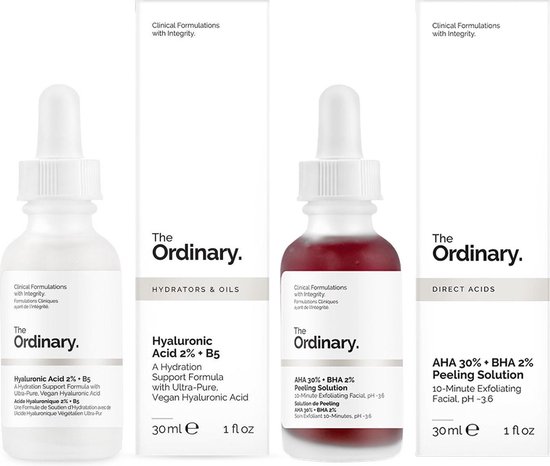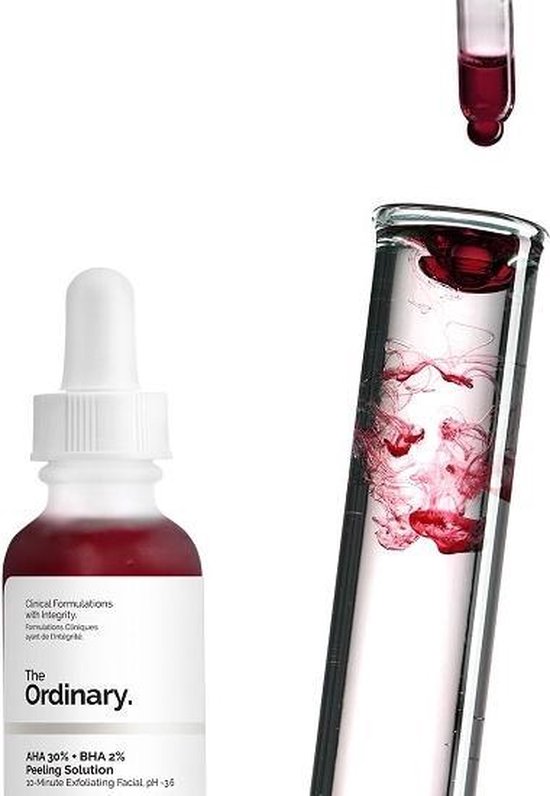 Unisex
Huidtype: Droge huid | Gecombineerde huid | Normale huid | Onzuivere huid | Rijpe huid | Vette huid
SPF 0
60 ml
Alle productspecificaties
Productbeschrijving
The Ordinary - Verzorgings premium set | Hyaluronic Acid 2% + B5

With 30% Alpha Hydroxy Acids (Glycolic/Lactic/Tartaric/Citric), 2% Beta Hydroxy Acid (Salicylic Acid), Hyaluronic Acid Crosspolymer, Vitamin B5, Black Carrot and Tasmanian Pepperberry

Alpha hydroxy acids (AHA) exfoliate the skin's topmost surface for a brighter and more even appearance. Beta hydroxy acids (BHA) also exfoliate the skin with an extended function to help clear pore congestion. This combined 32% AHA/BHA solution offers deeper exfoliation to help fight visible blemishes and for improved skin radiance. The formula also improves the appearance of skin texture and reduces the look of fine lines with continued use.

This formula contains a studied Tasmanian Pepperberry derivative to help reduce irritation associated with acid use. This derivative is of plant origin and varies in colour seasonally and this colour variation may be apparent in the formula from time to time. This formula is further supported with a crosspolymer form of hyaluronic acid for comfort, Vitamin B5 to assist healing and black carrot as an antioxidant.

Note: This formula contains a very high concentration of free acids. We recommend use only if you are an experienced user of acid exfoliation and your skin is not sensitive.

Contraindications: This formula should not be used on sensitive, peeling or compromised skin. Please refer to additional sun protection note and other warnings in provided Directions.

This pH of this formula is approximately 3.6. Glycolic Acid, the primary AHA used in the formula, has a pKa of 3.6 and pKa is the most important aspect to consider in formulating with acids. pKa implies acid availability. When pKa is close to pH, there is an ideal balance between salt and acidity, maximizing effectiveness of the acid and reducing irritation. Higher pH numbers in such a case would increase salt which counter-intuitively would make the formula even more irritating than if the formula was more acidic.

Note: While exfoliating acids can result in quick visible benefits, we generally suggest indirect forms of skin exfoliation in favour of direct forms such as this formula due to potential inflammation and sensitivity associated with acids. Please refer to NIOD's Non-Acid Acid Precursor for such a reference.
Directions
Clean face and wait for skin to dry. Do not use on wet skin. Apply evenly across face and neck using fingertips, avoiding the eye area. Leave on for no more than 10 minutes. Rinse thoroughly with lukewarm water. Avoid the eye contour and contact with eyes both during application and rinse off. This low-viscosity solution is intended to be used as a masque. Do not leave on for longer than 10 minutes. It is not recommended to use more than twice per week. Contact of the product with the skin must be of limited frequency or duration. If irritation occurs, cease use and consult a physician. Use only as directed on unbroken skin. Patch testing prior to use is advised. Refer to our in-depth guide to patch testing. Keep out of reach of children.

Sunburn Alert: This product contains an alpha hydroxy acid (AHA) and a beta hydroxy acid (BHA) that may increase your skin's sensitivity to the sun and particularly the possibility of sunburn. Use a sunscreen, wear protective clothing, and limit sun exposure while using this product and for a week afterwards.
Ingredients
Glycolic Acid, Aqua (Water), Aloe Barbadensis Leaf Water, Sodium Hydroxide, Daucus Carota Sativa Extract, Propanediol, Cocamidopropyl Dimethylamine, Salicylic Acid, Potassium Citrate, Lactic Acid, Tartaric Acid, Citric Acid, Panthenol, Sodium Hyaluronate Crosspolymer, Tasmannia Lanceolata Fruit/Leaf Extract, Glycerin, Pentylene Glycol, Xanthan gum, Polysorbate 20, Trisodium Ethylenediamine Disuccinate, Potassium Sorbate, Sodium Benzoate, Ethylhexylglycerin, 1,2-Hexanediol, Caprylyl Glycol.


Hyaluronic Acid (HA) can attract up to 1,000 times its weight in water. The molecular size of HA determines its depth of delivery in the skin. This formulation combines low-, medium- and high-molecular weight HA, as well as a next-generation HA crosspolymer at a combined concentration of 2% for multi-depth hydration. This system is supported with the addition of Vitamin B5 which also enhances surface hydration. A more advanced HA formulation with 15 forms of HA, including precursors of HA, is offered by our brand NIOD in Multi-Molecular Hyaluronic Complex.
Note: Hyaluronic Acid is found in the skin naturally but its natural function within the skin is not hydration. Many products have used HA to claim hydration benefits, but HA is too large of a molecule to penetrate the skin and instead sits on the surface and can draw moisture out of the skin making the surface feel soft and hydrated temporarily, while making you feel like you need more HA after the product is rinsed. This formula uses three forms of HA with varying molecular weights, as well as an HA crosspolymer, to offer multi-depth hydration and visible plumping without drawing water out of the skin solely to improve temporary surface hydration.
ALSO WATCH: The Ordinary Niacinamide 10% + Zinc 1%
!! Hyaluronic acid and niacinamide are both water-based treatment and they can be used together. When used together, start by applying hyaluronic acid then followed by niacinamide. In this way, you can replenish your skin with plenty of hydration first. Then apply niacinamide to regulates your sebum and minimizes pores !!
Directions
Apply a few drops to face AM and PM before creams. If irritation occurs, cease use and consult a physician. Use only as directed on unbroken skin. Patch testing prior to use is advised. Refer to our in-depth guide to patch testing. Keep out of reach of children.
Ingredients
Aqua (Water), Sodium Hyaluronate, Pentylene Glycol, Propanediol, Sodium Hyaluronate Crosspolymer, Panthenol, Ahnfeltia Concinna Extract, Glycerin, Trisodium Ethylenediamine Disuccinate, Citric Acid, Isoceteth-20, Ethoxydiglycol, Ethylhexylglycerin, Hexylene Glycol, 1,2-Hexanediol, Phenoxyethanol, Caprylyl Glycol.
Productspecificaties
Productspecificaties
Alcoholvrij

Ja

Dermatologisch getest

Dermatologisch getest

Wanneer er dermatologisch getest op het etiket van een product staat dan heeft de fabrikant het product of de afzonderlijke ingrediënten mogelijk door dermatologen op vrijwilligers laten testen. Deze test zegt echter niets over het resultaat van deze onderzoeken.

Tooltip

Ja

SPF-factor

SPF 0

Parfumvrij

Ja
Productinformatie
Gewicht

0 kg
Gebruikswijze en werking
Geslacht

Voor unisex

Huidtype

Huidtype: Droge huid | Gecombineerde huid | Normale huid | Onzuivere huid | Rijpe huid | Vette huid
Overige kenmerken
Aantal stuks in verpakking

2 stuk(s)

Allergeneninformatie

.

Huidbehoefte

Acne & puistjes

Hyaluronzuur

Ja

Hydraterend

Ja

Hypo-allergeen

Nee

Inhoud

60 ml

Inhoud per dispenser

30 ml

Natuurlijke ingredienten

Ja

Olievrij

Ja

Salicylzuur

Ja

Substantie

Lotion

Verkleind poriën

Ja

Verpakking breedte

0.1 mm

Verpakking hoogte

0.1 mm

Verpakking lengte

0.1 mm

Verstevigend

Ja

Verzorgend

Ja
Je vindt dit artikel in
Reviews
5,0
van de 5
1
0
0
0
0
Aanrader!

Mijn huid klaart op en voelt super zacht aan
Tijdens ELLE Smart shopping Day & Night luxe make-up & verzorging van o.a. Clinique en Estée Lauder
Op voorraad
Voor 15:00 uur besteld, morgen in huis
Bestellen en betalen via bol.com
Gratis verzending door MAELA BEAUTY
30 dagen bedenktijd en gratis retourneren