Ga naar zoeken
Ga naar hoofdinhoud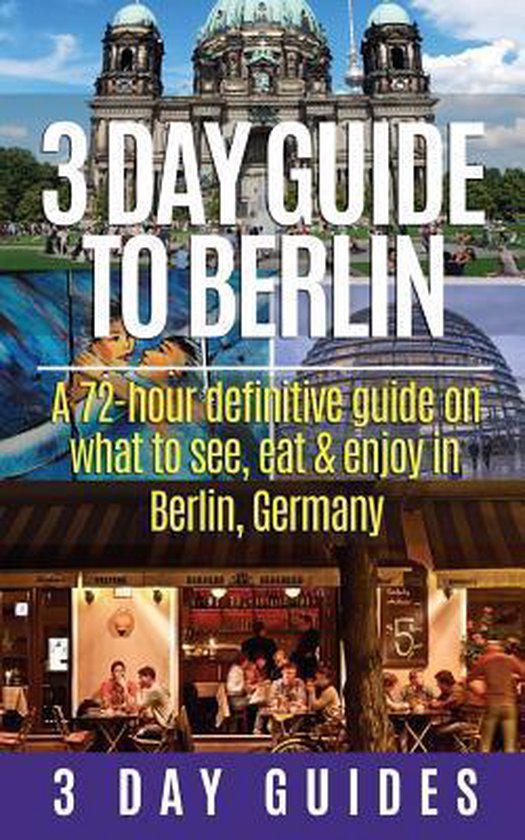 Samenvatting
See. Eat. Sleep. Enjoy. A 72-Hour Guide to Berlin, Germany.2nd Edition. Revised and Expanded.City breaks are perfect for those long weekends away. You go to a city and you've got only a short amount of time to see the sights, there's no time to get distracted. But what if you don't know exactly what to do and see? Which places to eat at? When the best time is to visit? With an exciting mixture of old and new, history and modern nightlife Berlin is the travel destination for anyone who desires a bit of everything. Travel back in time as you visit one of any number of archaeological sites; stare in awe at some of the most breath-taking landmarks in Europe; dance the night away in one of Berlin's many dance clubs or take a tour of the Tiergarten or any of the other parks that Berlin has to offer. An exciting blend of nationalities from around the world Berlin has so much to offer any one who decides to visit this wide and sprawling metropolis.Inside 3-Day Guide to Berlin: A 72-hour definitive guide on what to see, eat and enjoy in Berlin, Germany:

History - We've put together a historic overview of Berlin and Germany, guiding you through the stories behind the most famous landmarks of the city which was once the center of the Prussian Empire and hopefully giving you some ideas along the way.
Climate - Your Berlin guide provides you with a quick run-down of the German climate you can ensure that you visit Berlin at the time that's best for you. Teamed with the city overview you can make sure that you get all that you want from this visit.
City Overview - home to the Berlin Philharmonic and a bustling nightlife it is almost guaranteed that life in Berlin is never boring. The city overview lets you know what's happening so you won't miss anything that you might want to see.
Transport - Train, plane or road, however you want to get to Berlin, it's all made simpler with our handy guide to transport to and around the city. This book is packed with tips and tricks to help you keep travel stress free and cross the city like a local.
Sight-seeing - This trip planner helps you to make the most of your visit and turn your holiday into the trip of a life time this guide is full of attractions to suit any type of adventurer, including; art, theater, music, night life, history, architecture, museums, landmarks, beaches, parks, sightseeing and so much more.
3 Day Itinerary - For those of you who aren't sure exactly what to you want to see but want to plunge straight in to exploring Berlin there's a handy itinerary all drawn up for you. Filled with dozens of exciting ideas you can just pick and choose which parts you want to use and your trip of a lifetime is set.
Best Places for Any Budget - Perfect for discount travel. With comprehensive lists of the best places to eat, sleep and enjoy a night out all arranged by budget levels you're bound to find something for you no matter what your budget is and what you've come to see.
Grab your kindle copy of 3-Day Guide to Berlin: A 72-hour definitive guide on what to see, eat and enjoy in Berlin, Germany to begin experiencing the best of Berlin, today.
Productspecificaties
Inhoud
Taal

Engels

Bindwijze

Paperback

Verschijningsdatum

december 2014

Aantal pagina's

78 pagina's

Illustraties

Nee
Betrokkenen
Auteur(s)

Uitgever
Overige kenmerken
Extra groot lettertype

Nee

Gewicht

86 g

Verpakking breedte

127 mm

Verpakking hoogte

4 mm

Verpakking lengte

203 mm
Je vindt dit artikel in
Categorieën

Land

Taal

Boek, ebook of luisterboek?

Type vakantie
Verwacht over 10 weken
Levertijd
We doen er alles aan om dit artikel op tijd te bezorgen. Het is echter in een enkel geval mogelijk dat door omstandigheden de bezorging vertraagd is.
Bezorgopties
We bieden verschillende opties aan voor het bezorgen of ophalen van je bestelling. Welke opties voor jouw bestelling beschikbaar zijn, zie je bij het afronden van de bestelling.
Tooltip
Verkoop door bol.com
Gratis verzending door bol.com vanaf 20 euro
Ophalen bij een bol.com afhaalpunt mogelijk
30 dagen bedenktijd en gratis retourneren
Dag en nacht klantenservice