Ga naar zoeken
Ga naar hoofdinhoud
A Brief Narrative of the Indian Charity-School, in Lebanon in Connecticut, New England. Founded and Carried on by That Faithful Servant of God the REV. MR Eleazar Wheelock.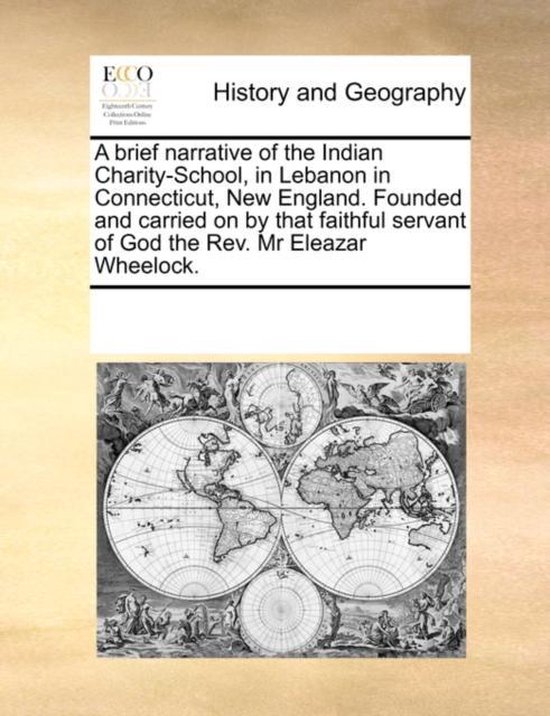 Samenvatting
The 18th century was a wealth of knowledge, exploration and rapidly growing technology and expanding record-keeping made possible by advances in the printing press. In its determination to preserve the century of revolution, Gale initiated a revolution of its own: digitization of epic proportions to preserve these invaluable works in the largest archive of its kind. Now for the first time these high-quality digital copies of original 18th century manuscripts are available in print, making them highly accessible to libraries, undergraduate students, and independent scholars.Rich in titles on English life and social history, this collection spans the world as it was known to eighteenth-century historians and explorers. Titles include a wealth of travel accounts and diaries, histories of nations from throughout the world, and maps and charts of a world that was still being discovered. Students of the War of American Independence will find fascinating accounts from the British side of conflict. ++++The below data was compiled from various identification fields in the bibliographic record of this title. This data is provided as an additional tool in helping to insure edition identification: ++++Harvard University Houghton LibraryN000080Sometimes attributed to Nathaniel Whitaker. Issued in connection with a visit to the British Isles by the Rev. Nathaniel Whitaker to raise funds for the school and possibly based on Wheelock's 'A plain and faithful narrative of .. the Indian Charity-School ..', 1763.London: printed by J. and W. Oliver, 1766. 48p.; 8
Productspecificaties
Inhoud
Taal

Engels

Bindwijze

Paperback

Verschijningsdatum

juni 2010

Aantal pagina's

54 pagina's

Illustraties

Met illustraties
Betrokkenen
Auteur(s)

Uitgever
Overige kenmerken
Extra groot lettertype

Nee

Gewicht

113 g

Verpakking breedte

189 mm

Verpakking hoogte

3 mm

Verpakking lengte

246 mm
Je vindt dit artikel in
Verwacht over 10 weken
Levertijd
We doen er alles aan om dit artikel op tijd te bezorgen. Het is echter in een enkel geval mogelijk dat door omstandigheden de bezorging vertraagd is.
Bezorgopties
We bieden verschillende opties aan voor het bezorgen of ophalen van je bestelling. Welke opties voor jouw bestelling beschikbaar zijn, zie je bij het afronden van de bestelling.
Tooltip
Verkoop door bol.com
Gratis verzending door bol.com vanaf 20 euro
Ophalen bij een bol.com afhaalpunt mogelijk
30 dagen bedenktijd en gratis retourneren
Dag en nacht klantenservice