Ga naar zoeken
Ga naar hoofdinhoud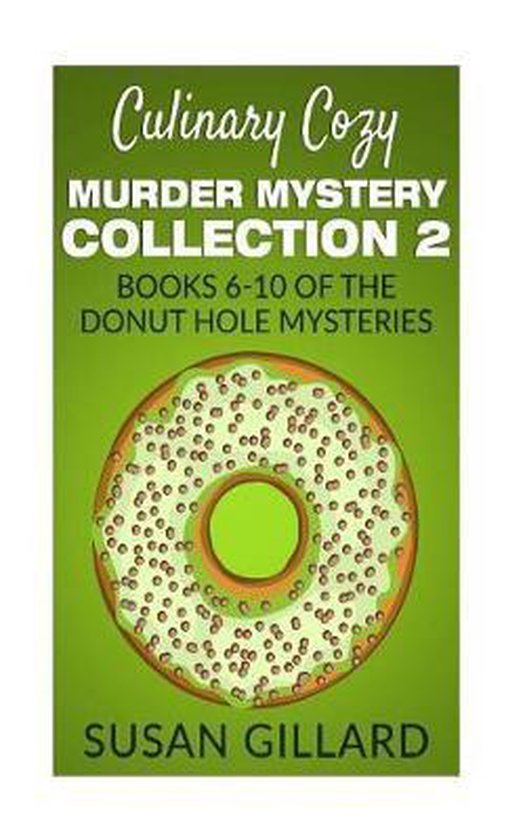 Samenvatting
This is a collection of Books 6,7,8,9 & 10 of the Donut Hole Cozy Mystery Series
Book 6 - Mint Chip Murder
When a local hairstylist is bludgeoned to death inside her own salon, questions abound for Heather who wants to know who murdered Kelly Carlson, and why?
Was the murder premeditated, or spur-of-the-moment? Was the killer someone Kelly knew? Why are the police being so quite about it?
With little to go, Heather is on the hunt for answers. But will her biggest clue come too late?
Book 7 - Red, White and Blueberry Murder
When Heather Janke hears that her oldest and most faithful customer, Eva Schneider, has been bonked on the head and is in hospital, she's shocked to the core.
Especially when she discovers one of the main suspects is her newest assistant, Ken. With nothing but her eccentric puppy dog, Dave, and her burning desire to help put Eva's attacker behind bars, she sets out on another sleuthing endeavor, determined to find the truth. But Heather has more to deal with than just the case: she has to balance a busy Donut Delights with the busy season in full swing, as well as the plans for her impending nuptials to her handsome detective fiancé, who is less than impressed with her extracurricular activities.
Heather must get to the center of the mystery, but this one might turn out to be deeper than a donut hole.
Book 8 - Lemon Chiffon Murder
When Heather Janke hosts her engagement party in Paris, France, the last thing she expects to find out is that one of her guests has been poisoned by one of her donuts.
She's overwhelmed with grief, particularly when she finds out that the suspect is Angelica, her faithful assistant and friend, who flew all the way out to France to help her with her wedding. With the wedding only days away, and no help from the French police, Heather sets out to clear Angelica's name and save her from imprisonments. But Heather has to contend with the press, a particularly nosy – and cheesy – maître d'hôtel, and the constant battle to stay on top of affairs while her wedding date draws closer and closer.
Heather must figure out who poisoned her beloved lemon chiffon icing, but the zest might be too sour for her to handle this time around.
Book 9 - Chocolate Tiramisu Murder
When Heather Shepherd has a run-in with a rude Italian actor on the first night of her honeymoon, she thinks nothing of it… until his body turns up in one of Venice's canals the very next day.
She's horrified, even more, when an Inspector comes knocking with questions for her and her newlywed husband. Heather decides she won't let an impending arrest ruin her honeymoon, and with Ryan's help, she sleuths her way from the kitchen of the hotel all the way to the top of entertainment in Venice. But Heather has to balance her honeymoon festivities with the case, and the harder she digs for the truth, the muddier the mystery becomes, thanks to a cast of eccentric and rather infuriated Italian suspects.
Heather must discover the truth, before the sweet coffee glaze on the donut that is her Honeymoon, dries out and she's left with nothing but questions.
Book 10 - Rhubarb Frosted Murder
When Heather Shepherd arrives at Amy's boyfriend's house, the last thing she expects to find is Kent unconscious and a new murder to solve.
But that's exactly what happens, and things only get worse when it's revealed that Amy is the prime suspect and Kent has amnesia. With nothing but her Rhubarb Frosted donuts and her keen sense of adventure, she determines to solve the case before the killer can strike again. But the closer Heather gets to the truth, the worse Amy's behavior becomes – her paranoia is at an all-time high.
Heather must choose: delve into the donut hole or leave this case as uncooked batter – either way, there's a mystery to sleuth, and this one is the trickiest so far.
Productspecificaties
Inhoud
Taal

Engels

Bindwijze

Paperback

Verschijningsdatum

april 2017

Aantal pagina's

810 pagina's

Illustraties

Nee
Betrokkenen
Auteur(s)

Uitgever
Overige kenmerken
Extra groot lettertype

Nee

Gewicht

785 g

Verpakking breedte

127 mm

Verpakking hoogte

41 mm

Verpakking lengte

203 mm
Je vindt dit artikel in
Verwacht over 10 weken
Levertijd
We doen er alles aan om dit artikel op tijd te bezorgen. Het is echter in een enkel geval mogelijk dat door omstandigheden de bezorging vertraagd is.
Bezorgopties
We bieden verschillende opties aan voor het bezorgen of ophalen van je bestelling. Welke opties voor jouw bestelling beschikbaar zijn, zie je bij het afronden van de bestelling.
Tooltip
Verkoop door bol.com
Prijs inclusief verzendkosten, verstuurd door bol.com
Ophalen bij een bol.com afhaalpunt mogelijk
30 dagen bedenktijd en gratis retourneren
Dag en nacht klantenservice