Ga naar zoeken
Ga naar hoofdinhoud
Desperate
EBOOK
Ebooks kunnen worden gelezen op uw computer en op daarvoor geschikte e-readers.
Hope for the Mom Who Needs to Breathe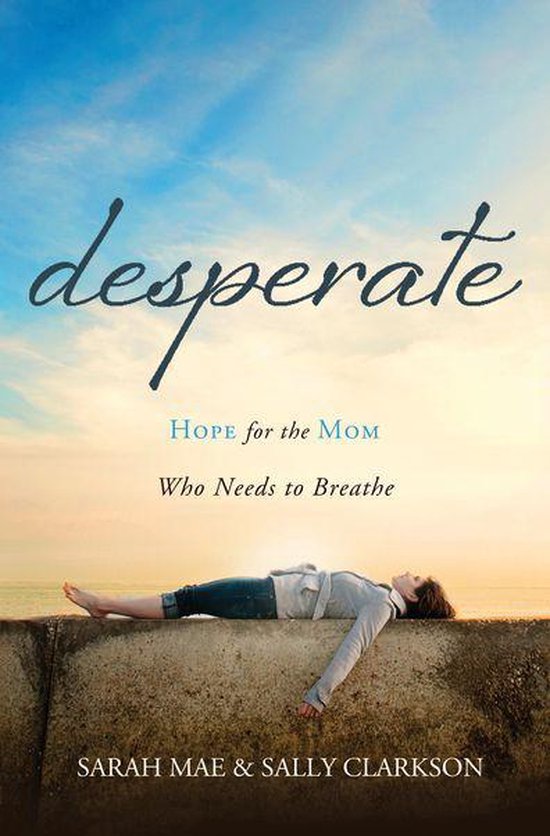 Ebooks lezen is heel makkelijk. Na aankoop zijn ze direct beschikbaar op je Kobo e-reader en op je smartphone of tablet met de gratis bol.com Kobo app.


Samenvatting
Desperate is for those who love their children to the depths of their souls but who have also curled up under their covers, fighting back tears, and begging God for help. It's for those who have ever wondered what happened to all their ideals for what having children would be like. For those who have ever felt like all the "experts" have clearly never had a child like theirs. For those who have prayed for a mentor. For those who ever felt lost and alone in motherhood.
In Desperate you will find the story of one young mother's honest account of the desperate feelings experienced in motherhood and one experienced mentor's realistic and gentle exhortations that were forged in the trenches of raising her own four children.
Also in Desperate:
QR codes and links at the end of each chapter that lead to videos with Sarah Mae and Sally talking about the chapter
Practical steps to take during the desperate times
Bible study and journal exercises in each chapter that will lead you to identify ways in which you can grow as a mom
Mentoring advice for real-life situations
Q & A section with Sally where she answers readers questions
What People Are Saying About Desperate:
I hold these pages, words of Sarah Mae's and Sally's, that are a gift to every mother, that welcome mothers everywhere out of hiding and loneliness and into a fellowship of sisters and mentors, that will make you feel not alone, that will make you feel that there is real God-given hope.
-Ann Voskamp, author of One Thousand Gifts
You need this book! I'm buying it for all my friends who are in the mom stage of life.
-Linda Dillow, Author of *Calm My Anxious Heart*and What's it Like to be Married to Me?
This book seeps wisdom and truth. I breathed a sigh of relief to know I'm not alone in my parenting struggles. As a reader I felt part of their friendship circle, and I found hope, answers and assurance within these pages. I can't recommend this book enough! Read it alone or read it with friends…but read it!
-Tricia Goyer, best-selling author of 34 books, including Blue Like Play Dough: The Shape of Motherhood in the Grip of
God
Powerful, captivating and gut-wrenchingly honest; if this superb book could get into the hands of every mom, our world
would drastically change, for the good! It's a new classic for a new generation.
-Kristen Habermehl, author & speaker, founder of Mom Nights
Sarah Mae represents so many women who long to be good mamas to their little ones, and Sally embodies the mentor so many of us wish we had. They have given us a gift with the words on these pages—a peek into their conversations about what it means to persevere through the tiring days of parenting small children, and a glimpse at what it's like on the other side.
-Tsh Oxenreider, author and blogger behind SimpleMom.net
Instead of heaping guilt upon moms by giving them impossible-to-live-up-to formulas for perfect parenting, Desperate offers a refreshingly-needed message of grace for weary moms. If you've ever struggled with feelings of inadequacy in your mothering, you need to read this book.
-Crystal Paine, moneysavingmom.com
If you're a tired mom who doesn't have time for a day off, this book might be the next best thing. It was for me.
~Lisa-Jo Baker, Social Media Manager for DaySpring, Community Manager for the website incourage.me and blogger at LisaJoBaker.com
Sarah Mae articulates the struggles that many have remained unspoken in all of us. She is courageous and breathtakingly honest while giving voice to the real challenges of motherhood and the frailty of a woman's soul. Sally Clarkson answers those anguished thoughts with sage, sound, gentle mentoring and the kind friendship of a woman who has walked the same path. Together, they offer today's desperate (or even simply soul-weary) mothers hope, encouragement, and a tangible roadmap for navigating the rough paths along motherhood's journey.
—Elizabeth Foss,
author, Small Steps for Catholic Moms and Real Learning: Education in the Heart of the Home
Desperate is a wonderful balance between two ends of motherhood. Sarah shares raw and detailed emotions about mothering young ones, as she is currently in the heat of it with her 3 small ones. Sally brings the wisdom from a mother who has been there, and ran the race well, very well...This book isn't only for the "desperate" moms, it is for ALL moms.
-Carisa Hinson, writer at 1plus1plus1equals1.net
Sarah's honest questions and Sally's seasoned advice, laced with biblical insight and hopeful encouragement, will enable mothers of all ages and stages to find strength amidst the struggles, calm with every climb and peace in every plunge.
-Karen Ehman, Proverbs 31 Ministries Director of Speakers, author of LET. IT. GO. How to Stop Running the Show & Start Walking in Faith
Productspecificaties
Inhoud
Taal

Engels

Bindwijze

E-book

Verschijningsdatum

januari 2013

Afmetingen

Afmeting: 21,6 x 14 x 1,3 cm

Aantal pagina's

240 pagina's

Ebook formaat

Adobe ePub

Illustraties

Nee
Betrokkenen
Auteur(s)

Uitgever
Lees mogelijkheden
Lees dit ebook op

Desktop (Mac en Windows) | Kobo e-reader | Overige e-reader | Android (smartphone en tablet) | iOS (smartphone en tablet) | Windows (smartphone en tablet)

Ebook formaat

Adobe ePub
Overige kenmerken
Extra groot lettertype

Nee

Studieboek

Ja
Je vindt dit artikel in
Categorieën

Boek, ebook of luisterboek?
Boek geeft wat het beloofd: hoop

Geschreven bij Desperate

Het boek geeft hoop en perspectief als je het even niet meer ziet zitten. Fijn om te lezen, opbeurend en herkenbaar.