Ga naar zoeken
Ga naar hoofdinhoud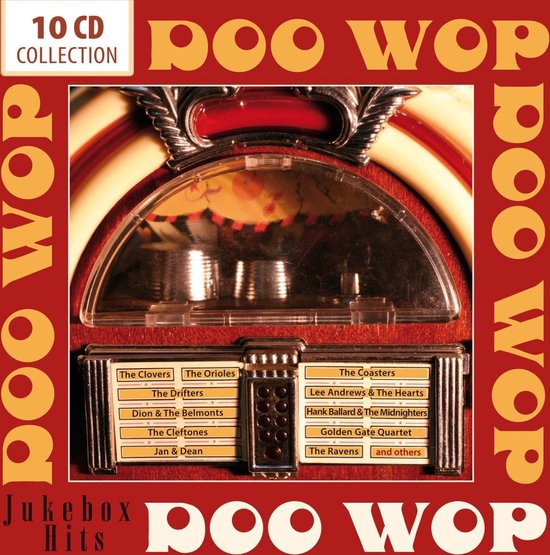 Afbeelding 1 van 2
Tracklist 1
1.

The Four Tops - Ain't that love

2.

The Chimes - Once in a while

3.

The Golden Gate Quartet - Atom & evil

4.

The Drifters - Drip drop

5.

The Sheppards - Island of love

6.

Deek & His Down Dodds Watson - Sentimental reasons

7.

The Pastels - So far away

8.

The Coasters - Zing, went the strings of my heart

9.

Lee & The Hearts Andrews - Try the impossible

10.

Dusty & His Four Tones Brooks - Play jackpot

11.

The Clovers - Easy lovin'

12.

The Collegians - Zoom, zoom, toom

13.

The Channels - My love will never die

14.

The Kodoks - Oh gee, oh gosh

15.

The Cats & The Fiddle - I miss you so

16.

The Danleers - One summer night

17.

The Avalons - Hearts desire

18.

The Five Dollars - My baby-o

19.

The Impressions - Señorita I love you

20.

The Ink Spots - If I didn't care
Tracklist 2
1.

The Paragons - Florence

2.

The Miracles - Who's lovin' you

3.

Norman & The Rob-Roys Fox - Tell me why

4.

The Basin Street Boys - I sold my heart to the junk man

5.

The Cadillacs - My girlfriend

6.

Huey ''Piano'' & Clowns, The Smith - Dearest darling (you're the one)

7.

The Solitaires - Walking along

8.

The Spaniels - Stormy weather

9.

The Cleftones - Lover boy

10.

The Melody Masters - My baby

11.

The Valentines - Don't say goodnight

12.

The Videos - Trickle, trickle

13.

The El Torros - Dance with me

14.

The Fiestas - Dollar Bill

15.

The Turbans - Congratulations

16.

The Four Aces - I wonder, I wonder, I wonder

17.

Jan & Dean - Judy

18.

The Dells - Dry your eyes

19.

Stanley & The Tornados Mitchell - Four o'clock in the morning

20.

The Four Vagabonds - P.S. I love you
Tracklist 3
1.

Dion & The Belmonts - I can't go on (Rosalie)

2.

The Rockets - Loch lomond

3.

The Jaguars - The way you look tonight

4.

Little Jimmy & The Tops - Puppy love

5.

The Five Bars - I'm all dressed up with a broken heart

6.

The Channels - The closer you are

7.

The Crests - Step by step

8.

The Dells - Why do you have to go

9.

Jimmy & Juniors, The Castor - I promise

10.

The Scamps - Solitude

11.

The Cadillacs - Zoom

12.

The Fiestas - Good news

13.

The Bop-Chords - Castle in the sky

14.

The Jesters - Sally Green

15.

The Big Three Trio - After awhile

16.

The Spaniels - You gave me a peace of mind

17.

The Skyliners - Pennies from Heaven

18.

Lewis & The Teenchords Lymon - I'm so happy

19.

The Deep River Boys - Recess in Heaven

20.

Jan & Dean - My heart sings
Tracklist 4
1.

The Boss-Tones - Moptitty mope

2.

The Chaperones - Cruise to the moon

3.

The Four Blues - It takes a long tall brown skinned gal

4.

The Chips - Rubber bisquit

5.

Dean & Marc - Tell him no

6.

Jimmy & The Pretenders Jones - Lover

7.

The Pearls - Let's you & I go steady

8.

The Four Tunes - You're heartless

9.

The Midnighters - Don't change your pretty ways

10.

Jan & Dean - Oh Julie

11.

The Regals - Got the water boiling

12.

The Five Royales - I'm with you

13.

The Wrens - Come back my love

14.

The Harptones - Life is but a dream

15.

The Charioteers - A kiss & a rose

16.

The Mellows - Smoke from your cigarette

17.

The Desires - Let it please be you

18.

Don & The Meadowlarks Julian - Heaven & paradise

19.

The Syncopaters - River stay away from my door

20.

The Valentines - The woo woo train
Tracklist 5
1.

The Fantastics - There goes my love

2.

The Ravens - Count every star

3.

The Checkers - White cliffs of Dover

4.

The Distants - Come on

5.

The Moonglows - Baby please

6.

The Robins - Turkey hop

7.

Jan & Dean - You're on my mind

8.

The Robins - (Now & then there's) A fool such as I

9.

The Beavers - I'd rather be wrong than blue

10.

The Satintones - My beloved

11.

The Harp-Tones - A sunday kind of love

12.

The Clovers - When you come back to me

13.

The Vocaleers - Be true

14.

The Danleers - If you don't care

15.

The Flamingos - Golden teardrops

16.

The Cap-Tans - Chief, turn the hose on me

17.

Billy & His Buddies Bunn - That's when your heartaches begin

18.

The Serenaders - But I forgive you

19.

The Delta Rhythm Boys - If you see the tears in my eyes

20.

The Castelles - My girl awaits me
Tracklist 6
1.

The Fascinators - Oh, Rose Marie

2.

The Vibrations - So blue

3.

The Orioles - At night

4.

Hank & Midnighters, The Ballard - Every beat of my heart

5.

Jan & Dean - Jeanette get your hair done

6.

The Three Riffs - Jumping Jack

7.

The Larks - Hold me

8.

The Four Buddies - Sweet slumber

9.

The Four Tunes - Old fashioned love

10.

The Four Buddies - You're part of me

11.

The Ravens - Gotta find my baby

12.

The Cadillacs - I'm willing

13.

The Striders - Cool Saturday night

14.

The Orioles - Don't cry baby

15.

The Larks - My reverie

16.

The Colemans - I don't mind being all alone

17.

The Hollywood Four Flames - Wine

18.

The Sonics - This broken heart

19.

The Four Knights - That's the way it's gonna be

20.

The Ravens - I don't have to ride no more
Tracklist 7
1.

The Masterkeys - Mister Blues

2.

The Four Tunes - Let's give love

3.

Bobby Nunn - That's what the good book says

4.

The Starlites - Valerie

5.

The Four Jacks - The last of the good rocking men

6.

Jan & Dean - Cindy

7.

The Marshall Brothers - Who'll be the fool from now on

8.

The Marylanders - Make me thrill again

9.

The Carols - Please believe in me

10.

Billy & His Buddies Bunn - I'm afraid

11.

Patti & Margie - No no baby

12.

The Sultans - Lemon squeezing daddy

13.

The Kalin Twins - Jumpin' Jack

14.

The Four Blazes - Rug cutter

15.

The Five Larks - My heart cries for you

16.

The Heartbreakers - Heartbreaker

17.

Jan & Dean - Don't fly away

18.

The Sultans - Don't be angry

19.

The Flames - Young girl

20.

The Diamonds - A beggar for your kisses
Tracklist 8
1.

The Moonglows - Mama Loocie

2.

Lee & The Hearts Andrews - Maybe you'll be there

3.

The Du-Droppers - Can't do sixty no more

4.

King Odom Four - Lover come back to me

5.

The Four Dots - My dear

6.

Jan & Dean - White tennis sneakers

7.

The Enchanters - I've lost

8.

The Jewels - Oh yes I know

9.

The Four Knights - Walkin' & whistlin' blues

10.

The Medallions - The letter

11.

The Checkers - Flame in my heart

12.

The Desires - Rendezvous with you

13.

The Blenders - Little small town girl

14.

The Rivals - Rival blues

15.

The Robins - Riot in cell block number nine

16.

Vann Walls - Big leg mama

17.

Jan & Dean - Baggy pants

18.

The Five Keys - Serve another round

19.

The Playboys - My buddy done stole my chippie

20.

The Hornets - I can't believe
Tracklist 9
1.

The Eagles - Tryin' to get to you

2.

The Dubs - Don't laugh at me

3.

The Five Echoes - Baby come back to me

4.

The Lamplighters - I used to cry mercy, mercy

5.

The Mel-O-Dots - One more time

6.

The Jubalaires - A dream is a wish your heart makes

7.

The Five Keys - My saddest hour

8.

The Flamingos - Dream of a lifetime

9.

The Five Crowns - You're my inspiration

10.

The Checkers - House with no windows

11.

Jan & Dean - Judy's an angel

12.

The Velvets - I

13.

The Rainbows - Mary Lee

14.

The Heartbreakers - Rockin' daddy-o

15.

The Solitaires - Please remember my heart

16.

the Swallows - Nobody's lovin' me

17.

The Five Satins - I'll be seeing you

18.

The Hawks - It ain't that way

19.

The Platters - Hey now

20.

The Capris - God only knows
Tracklist 10
1.

The Cleftones - You baby you

2.

The Fi-Tones - It wasn't a lie

3.

The Orchids - Newly wed

4.

The Wanderers - We could find happiness

5.

The Cadillacs - Gloria

6.

The Prisonaires - Just walkin' in the rain

7.

The Four Flames - Later

8.

The Diablos - The wind

9.

The Five Sharps - Stormy weather

10.

The Harptones - My memories of you

11.

The Flairs - I had a love

12.

The Rivileers - A thousand stars

13.

The Victorians - I guess you're satisfied

14.

The Buccaneers - Dear Ruth

15.

The Moroccos - Red hots & chili mac

16.

The Scarlets - Dear One

17.

The Cardinals - Lovie darling

18.

The Valentines - Lily Maebelle

19.

The Du-Droppers - Boot 'em up

20.

The Chimes - Zindy Lou
Grote collectie

goede geluidskwaliteit
afwisselende opnamen

Een uitgebreide collectie van 10 volle cd's vol met afwisselende doo-wop. Een aanrader als overzichtsverzameling of als startpunt voor de beginnend liefhebber van doo-wop.
Productspecificaties
Gegevens
Artiest(en)

Releasedatum

05 augustus 2014

Label

EAN

4053796001719
Productinformatie
Configuratie

CD (ALBUM)

Aantal stuks in verpakking

10 disks

Aantal tracks

200

Speelduur

529:27

Kwaliteit

Stereo

Verpakking

Verpakking

De verpakking geeft aan waarin het product wordt aangeleverd.

Tooltip

BoxSet
Overige kenmerken
Box set

Ja

Muziekgenre

Pop
Je vindt dit artikel in
Categorieën

Drager

Verschijningsjaar

Uitvoering

Nieuw of tweedehands
1 - 2 weken
Levertijd
We doen er alles aan om dit artikel op tijd te bezorgen. Het is echter in een enkel geval mogelijk dat door omstandigheden de bezorging vertraagd is.
Bezorgopties
We bieden verschillende opties aan voor het bezorgen of ophalen van je bestelling. Welke opties voor jouw bestelling beschikbaar zijn, zie je bij het afronden van de bestelling.
Tooltip
Gratis verzending
30 dagen bedenktijd en gratis retourneren