Ga naar zoeken
Ga naar hoofdinhoud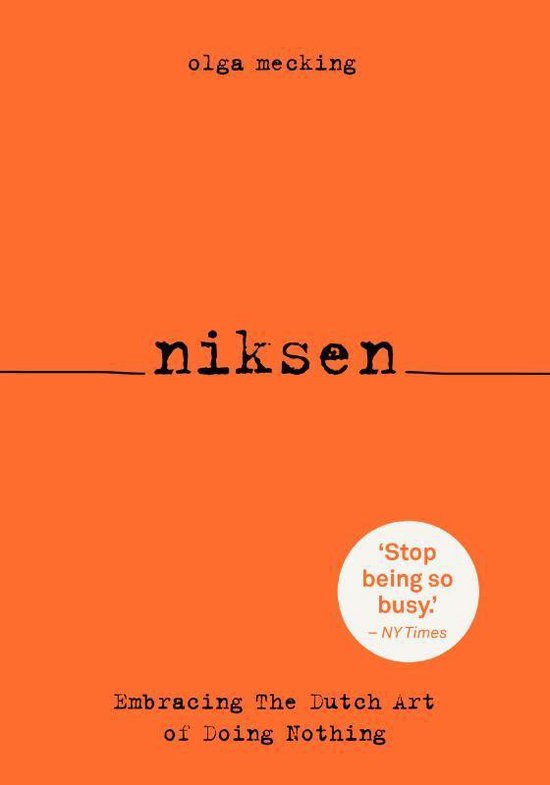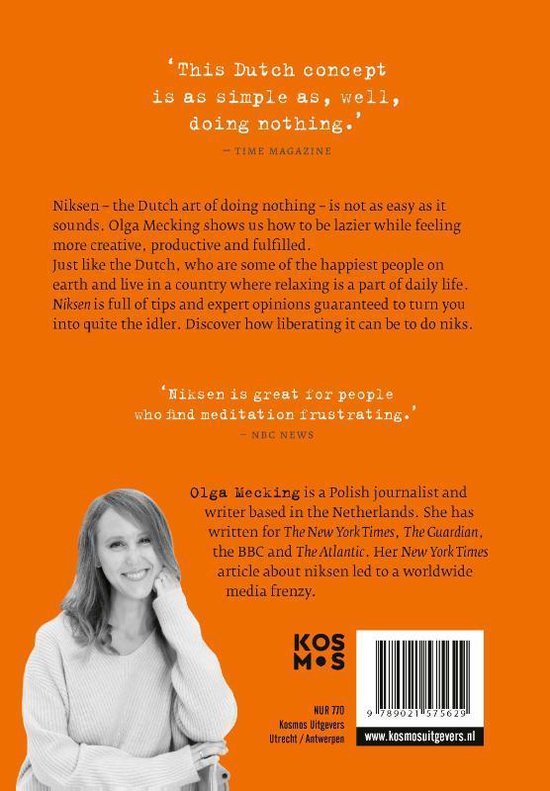 Boek omdraaien
Olga Mecking
She is a writer, journalist, and translator living in the Netherlands with her German husband Her writing has been published on The BBC; The Guardian, The Washington Post, New York Magazine, The Pacific Standard, The Atlantic's CityLab, Quartz, Yes!Magazine, and many others. You can find her writing portfolio on Contently. When not writing or thinking about writing, she can be found reading books, drinking tea, and reading some more. She offers services for companies (content marketing, translation – Polish, German and English) and writers (mentoring, editing, pitching advice).
Samenvatting
Niksen' is the book on the Dutch art of doing nothing, by expert Olga Mecking. Mecking's research on niksen and her articles in various international media such as 'The New York Times' brought worldwide fame to this Dutch way of life.
When was the last time you did absolutely nothing (no, not watch TV or read a book. Nothing)?
In 'Niksen' you'll learn how doing nothing can make you more creative, more relaxed and even healthier and happier. Learn to live like the Dutch, some of the happiest people on earth, and let doing nothing become part of your daily life. You'll soon find that Niksen is not a luxury, but a necessity.
In a world that expects us to constantly deliver output, niksen, the Dutch art of doing nothing, is not as easy as it sounds. We are almost always busy doing something. But even if you lead a very hectic life, it is possible to find time to niks: at home, at work and even on the road! 'Niksen' will show you how.
If your life is busy and stressed, this book is for you. 'Niksen' will give you the tools you need to deal with daily challenges and will help you become you happier and more productive while kicking back and letting go of everything. Mecking brings humor, insight and expert opinions together to prove that a bit of nothing can be liberating. 'Niksen' is guaranteed to turn you into quite the idler.
Niksen has received praise from various international media:
'This Dutch concept is as simple as, well, doing nothing.' – Time Magazine
'Niksen is great for people who find meditation frustrating.' – NBC News
'Stop being so busy.' – NY Times
'Olga Mecking put the Dutch phenomenon Niksen on the international map.' - de Volkskrant
'Niksen ensures that you get more done.' - Flow Magazine
Niksen by Olga Mecking

Imagine sitting cosily on your favourite couch. Maybe the sun is pouring through the window, or you're wrapped in a soft blanket. It's quiet, and you're daydreaming.

This is niksen, the Dutch art of doing nothing.

In her new book, Niksen, Olga Mecking introduces the world to niksen, the trend she discovered while living in the Netherlands. The Dutch work hard and play hard with a great work/life balance, and while they tend to be very busy, Mecking found they also take time to sit still, to niks quietly amid the busy routine to balance activity with moments of stillness.

In Niksen, Mecking shares the practice with the rest of the world and shows us how it's done.

Anyone interested in the Netherlands will enjoy Mecking's descriptions of life there, and residents will recognize the territory she covers. From work/life ratios to childcare to daily life in a small busy country, Mecking, who has lived in the Netherlands for 10 years, introduces the reader to the custom of niksen, which is so ingrained in Dutch life she writes it may have actually taken an outsider to recognize it.

This is not a self-book, rather it describes a way to slow things down, if just for a moment a day, so you can recharge and return refreshed.

In Niksen, Mecking outlines how to find stillness, where to find stillness, and describes its benefits. While she recognizes Niksen may not work for everyone, or be appropriate for all life stages, she also imagines a society built upon it, a Nikstopia: 'We can't meditate the climate crisis off the planet, we can't hygge our-selves in our homes away while minorities down the street feel threatened. But we can niks for a while, and allow ourselves and our brains, rejuvenated and recharged, to come up with smarter solutions. And then we can get to work.'

Pleasant and inspiring

I got interested in this book because of its author. I've previously read a few articles of Olga Mecking and they were always very interesting. One of the articles was on the topic of "Niksen" and turns out to be the starting point for this book.
First of all – this book is very pleasant to read. Mecking has, as we call it in Polish, a light pen. Her English is juicy, she nicely plays with words and describes the subject in a smooth way.
I must say I was curious. I am the busy type. Not only because modern life expects it from me but also because it is just my character. I am faster a workaholic than a lazy person. I am always busy with something. If not physically then with my thoughts. A 2h flight without book or something else to pass the time is a complete nightmare. But I do realize that it makes me tired. Therefore, with curiosity, I started on this book.
I am living 15 years in The Netherlands now and my husband is Dutch, so I have developed my own view about life of an average Dutch person. Are they sometimes 'busy' with 'niksen' indeed? Are they masters at it? Or my definition of this word would be totally different?
Mecking did some sound research. I must admit I was afraid that it is only based on her own observations and consequently might be different from mine or someone else's. But she unvealed her story in a way I like, with a touch of science, proof and a discussion.
Overall this book was good to read. Despite the fact that it obviously describes "niksen" it also shows how we can find those moments where we can go to our 'empty box'. Sometimes these moments are difficult to notice and therefore it is helpful that one of the chapters points to them. It is definitively a book worth reading when in need of some change in your life and you want to start small. Mecking writes that "Niksen gives us time to reflect" so maybe this can be a starting point.
On a personal note I should say that throughout the book I was thinking that 'niksen' is not meant for me. But as a born Pole I might be excused or merely lack the required skills, be it genetic or not. Anyways this story made me want to try it, with permission to fail, and I enjoyed the whole experience.

Worth your niksen

A charming book with interesting snippets of information, including relatable personal anecdotes. Lifestyle books aren't usually my thing, just not into reading what I'm doing wrong. Olga's author voice immediately drew me in, it was as if we were friends chatting about this idea about coffee. I thought I knew what this book was going to be about, how to do nothing, but it was more than that. She does a great job of breaking down the concepts of nothing, suggesting manageable and realistic ways to incorporate it into your everyday life, and even that you may find that it doesn't work for you! If you think nothing is a recently trendy theme word or behavior, I still suggest you read this book, there is a good chance nothing is already a part of your life! You just do it. Or not, as the case may be.

Do nothing - it is OK. Read and find out why and how

Following reading an article for The New York Times "The Case for Doing Nothing" by Olga Mecking, it wet my appetite to read more and, therefore, I gave Niksen-Empracing the Dutch Art of Doing Nothing a read. As a native English speaker, I read the English version, but will likely give the Dutch version a go as well.
The book covers not only this Dutch wellness trend, but surprisingly covers quite a bit about Dutch Culture, which was informative and funny. As an Expat living in The Netherlands, I found this particularly fascinating. The books casts a positive connotation or light on 'doing nothing'. Doing nothing is hard, but necessary to survive the world we live in.
This book provides the whys, wherefores and hows of embracing 'niksen'. I don't know who said it first Mr. Micawber from Dickens, the cartoon character Ziggy or Winnie the Pooh, but "Sometimes I sits and thinks, and someties I just sits". Read Niksen-embracing the Dutch Art of Doing Nothing and learn the benefits of "just sits" and "doing nothing".

Awesome book!

This is an easy to read, fun look at the art of doing nothing. Well worth picking up and reading the next time you're inspired to do niksen.
Productspecificaties
Inhoud
Taal

Engels

Bindwijze

Paperback

Druk

1

Verschijningsdatum

maart 2020

Afmetingen

21 x 14,7 x 1,7 cm

Aantal pagina's

224 pagina's

Illustraties

Met illustraties
Betrokkenen
Auteur

Uitgever
Overige kenmerken
NUR code

770

Subtitel

Embracing The Dutch Art of Doing Nothing
Je vindt dit artikel in
Categorieën

Boek, ebook of luisterboek?

Nieuw of tweedehands

Studieboek of algemeen

Land
Op voorraad
Select
Voor 23:59 besteld, morgen in huis
Levertijd
We doen er alles aan om dit artikel op tijd te bezorgen. Het is echter in een enkel geval mogelijk dat door omstandigheden de bezorging vertraagd is.
Bezorgopties
We bieden verschillende opties aan voor het bezorgen of ophalen van je bestelling. Welke opties voor jouw bestelling beschikbaar zijn, zie je bij het afronden van de bestelling.
Tooltip
Bezorgopties
Vandaag nog in huis (bestel doordeweeks voor 14:00, bezorging tussen 18:00 en 22:00)
Doordeweeks ook 's avonds in huis
Ook zondag in huis (bestel voor za 23:59)
Bekijk alle bezorgopties
Gratis verzending vanaf 20 euro
30 dagen bedenktijd en gratis retourneren
Ophalen bij een bol.com afhaalpunt mogelijk
Dag en nacht klantenservice
Cadeautje? Laat het voor je inpakken en bezorgen