Ga naar zoeken
Ga naar hoofdinhoud
Something's Coming! Universal Cities of Love, Light and Healing!
Universal Cities of Love, Light and Healing!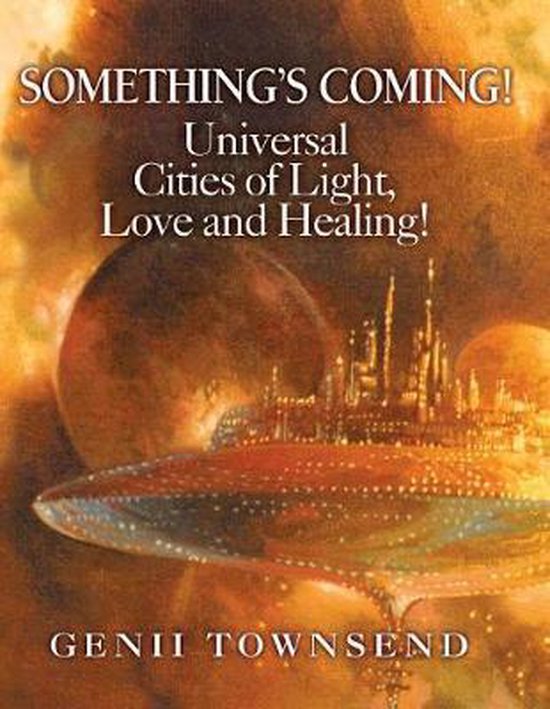 Samenvatting
This is a Full Color Edition Requested by Customers! Something's Coming and it is good news for a change! In an era when many are focused on end-of-the-world doom and gloom, along comes an exciting book to uplift humanity, reminding us that we are not alone and that help is on the way. In Something's Coming author Genii Townsend shares information kept secret for 25 years. Her "inner-vision journeys" began in 1982 when her husband, Rev. William Townsend, a Religious Science minister, brought forth drawings of Cities of Light while in meditation. After his passing, Genii continued where he left off and the city visits are now recorded in this book. No development on earth is more fascinating than the advent of the Cities of Light and the discussion can be traced to the middle of the last century. What exactly is a City of Light? Much like Atlantis, it is a portal where the star brothers and sisters can come for exchange of cultural ideas, technology, art and healing. The book describes it as the unfoldment of a universal plan. It is going beyond the universe to an interdimensional portal of love where beings from everywhere can experience a community of love." The Cities of Light can be glimpsed with our physical eyes but are more apparent to our Third and Fourth Eyes. They are "crystal cities of the future, places of peace and harmony where love prevails." As real places in the higher dimensions, people can anchor new realities within the 3rd dimension as an expanded experience. They are also for advanced healing through light, sound and color—"examples of what can be done by using our technologies for the good of all."The book describes the purpose and plans for a City of Light in Sedona, Arizona—a prototype for 13 more cities to appear around the planet. Included are diagrams and descriptions of advanced technologies, prophecies, discussion of the need for spiritual awakening and enlightenment on earth, and details of the city's amazing features.Genii paints a picture for readers of what it's like to enter such a place after 100+ visits she has made within the City of Light. "Imagine entering a place of such beauty that it makes you an instant believer that anything is possible, like entering a 5-story-high gate that is encoded with your personal beliefs that makes you feel like you just came home."Imagine experiencing healing techniques in light modules where no drugs, knives or needles can sever the body's electrical lines. Imagine a Memory Manor building where you can release past memory hurts with no emotion attached and a Fountain of Light that makes you feel physically and mentally great, and sitting on benches that massage the body. Imagine an Empowerment Emporium where you can balance your emotions and a "Birth-aterium" where babies are born laughing with the mother who had no anesthesia, no pain and the only crying is for the pure joy of the experience. And finally, imagine a stadium-size building called The Embassy of Peace Headquarters where "Light Beings gather to help bring forth peace on this earth."The Cities of Light function to heal us and raise our vibrations and consciousness. They are delightful places to be, they are places where peace reigns already. They exist in the Fifth Dimension and higher and are destined to play a large role in the transfer of learning and technology for us in the new Golden Age.Townsend writes: "Will it enhance peoples' lives? I think the common words will be 'OH MY GOD!' I ask you to hold the vision in your heart. Make no mistake, this planet will glow in love like never before."The stage is ready, the scenes inside these pages invite you to witness what is coming about, and this is your invitation, page by page, before the magic happens. Get your copy and get ready for the greatest show on earth. This book will show you how you can enter the city portals and change your reality forever.
Productspecificaties
Inhoud
Taal

Engels

Bindwijze

Paperback

Verschijningsdatum

april 2017

Aantal pagina's

450 pagina's

Illustraties

Nee
Betrokkenen
Auteur(s)

Redacteur

Uitgever
Overige kenmerken
Extra groot lettertype

Nee

Gewicht

1438 g

Studieboek

Nee

Verpakking breedte

216 mm

Verpakking hoogte

30 mm

Verpakking lengte

279 mm
Je vindt dit artikel in
Verwacht over 9 weken
Levertijd
We doen er alles aan om dit artikel op tijd te bezorgen. Het is echter in een enkel geval mogelijk dat door omstandigheden de bezorging vertraagd is.
Bezorgopties
We bieden verschillende opties aan voor het bezorgen of ophalen van je bestelling. Welke opties voor jouw bestelling beschikbaar zijn, zie je bij het afronden van de bestelling.
Tooltip
Verkoop door bol.com
Prijs inclusief verzendkosten, verstuurd door bol.com
Ophalen bij een bol.com afhaalpunt mogelijk
30 dagen bedenktijd en gratis retourneren
Dag en nacht klantenservice