Ga naar zoeken
Ga naar hoofdinhoud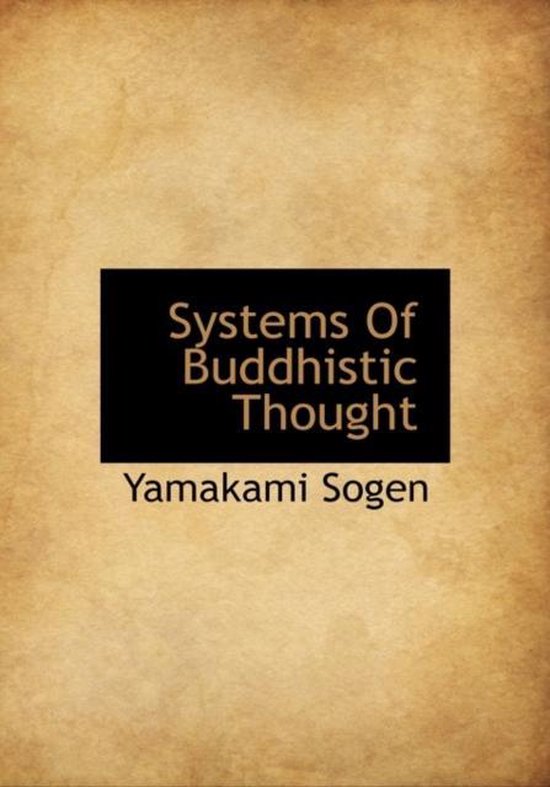 Samenvatting
From the Preface:
In the autumn of the year 1906, when I was leaving the shores of Japan, as a Post-Graduate Research Scholar of the Sôtô-shiû Daigak of Tôkiô, with the object of studying Sanskrit and Pa1i in the land of Buddha's birth, I came across a fellow-passenger, a kind-hearted American gentleman, who, on learning that I was a Buddhist priest, enquired of me in a half-curious, half-condescending manner, what Buddhism really meant. I fully understood the import of the question, and, though my heart was over-flowing with eagerness to explain to my interlocutor the doctrines of the religion in which I had been brought up, I discovered, to my very great regret, that my defective knowledge of the English language proved an unsurmountable barrier to the accomplishment of my pious purpose. A few words of broken English came to my lips and melted there. But my fellow-passenger was inexorable; he was determined to have an answer. Being at a loss to satisfy his laudable curiosity, I went down to my cabin and brought up Hepburn's English-Japanese Dictionary and a brand-new copy of Dr. Brewer's Dictionary of Phrase and Fable, the parting gift of a benevolent friend and fellow-countryman. The English-Japanese Dictionary was unfortunately of little or no use; but Brewer's work appeared for the time being to relieve me of my helplessness. Without hesitating for a single moment, I turned over the leaves of Brewer's book until I came to the article on Buddhism, and showed it to my trans-Atlantic companion who read it with apparent pleasure, thanked me for the information thus supplied, and departed in good humour. ''When he had gone out of sight, I retired to my cabin and attempted the then somewhat heroic feat of interpreting to myself with the help of Hepburn's Dictionary, the account given of Buddhism by the venerable Brewer; and distressing indeed was my surprise when I had made the passage intelligible to myself. Most of you, who are no doubt more familiar with Brewer's Dictionary of Phrase and Fable than I can claim to be, will recollect how even in the revised, corrected and enlarged edition of that work published in 1900, the article on Buddhism reads. ''Buddhism,'' says 'Brewer on p. 184 of that book, ''is a system of religion established in India in the third (!) century. The general outline of the system is that the world is a transient reflex of deity (!), that the soul is a 'vital spark' (!) of deity, and that after death it will be bound to matter again till the 'wearer' has, by divine contemplation, been so purged and purified that it is fit to be absorbed into the divine essence (!)''. ''Surely,'' said I to myself after perusiug Brewer's statements, ''there must be some error somewhere; for the Buddhism which I have practised and studied from my earliest youth believes in neither deity nor its 'spark,' and is something quite different''. And the necessity of exposing the erroneous notions prevalent in occidental countries about Buddhism — the enormity of which might be measured by the fact of their having misled even the octogenarian encyclopedic Brewer — urged itself upon me more strongly than ever. At that very time I made a solemn resolve that, should I be spared to acquire a sufficient command over English and Sanskrit, it would be my first care to explain to the inhabitants of the country which gave us our religion, what Buddhism really is and what it is not. Such an opportunity, however, seemed never to be coming, until, to my great surprise, I was informed one day that the large-hearted and erudite Vice-Chancellor and the learned Syndicate had appointed me Reader on Buddhism to the University of Calcutta. And great indeed is the thankfulness and delight with which I embrace this opportunity which promises an early fulfillment of my long-cherished hope of expounding to the countrymen of Buddha the real essence of the faith which he preached...
Productspecificaties
Inhoud
Taal

Engels

Bindwijze

Hardcover

Verschijningsdatum

april 2010

Aantal pagina's

376 pagina's

Illustraties

Nee
Betrokkenen
Auteur(s)

Uitgever
Overige kenmerken
Extra groot lettertype

Nee

Gewicht

866 g

Verpakking breedte

178 mm

Verpakking hoogte

22 mm

Verpakking lengte

254 mm
Je vindt dit artikel in
Verwacht over 10 weken
Levertijd
We doen er alles aan om dit artikel op tijd te bezorgen. Het is echter in een enkel geval mogelijk dat door omstandigheden de bezorging vertraagd is.
Bezorgopties
We bieden verschillende opties aan voor het bezorgen of ophalen van je bestelling. Welke opties voor jouw bestelling beschikbaar zijn, zie je bij het afronden van de bestelling.
Tooltip
Verkoop door bol.com
Prijs inclusief verzendkosten, verstuurd door bol.com
Ophalen bij een bol.com afhaalpunt mogelijk
30 dagen bedenktijd en gratis retourneren
Dag en nacht klantenservice