Ga naar zoeken
Ga naar hoofdinhoud
The Mindfulness and Acceptance Workbook for Anxiety
EBOOK
Ebooks kunnen worden gelezen op uw computer en op daarvoor geschikte e-readers.
A Guide to Breaking Free from Anxiety, Phobias, and Worry Using Acceptance and Commitment Therapy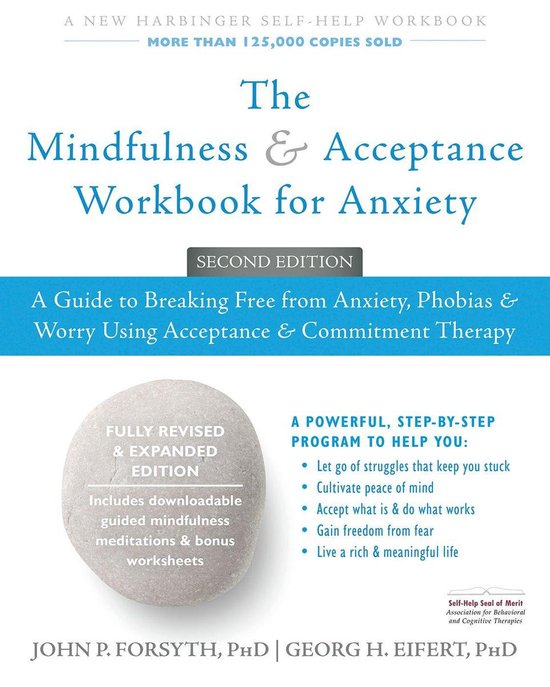 Ebooks lezen is heel makkelijk. Na aankoop zijn ze direct beschikbaar op je Kobo e-reader en op je smartphone of tablet met de gratis bol.com Kobo app.


Samenvatting
Is anxiety and fear a problem for you? Have you tried to win the war with your anxious mind and body, only to end up feeling frustrated, powerless, and stuck? If so, you're not alone. But there is a way forward, a path into genuine happiness, and a way back into living the kind of life you so desperately want. This workbook will help you get started on this new journey today!


Now in its second edition, The Mindfulness and Acceptance Workbook for Anxiety offers a new approach to your anxiety, fears, and your life. Within its pages, you'll find a powerful and tested set of tools and strategies to help you gain freedom from fear, trauma, worry, and all the many manifestations of anxiety and fear. The book offers an empowering approach to help you create the kind of life you so desperately want to live.


Based on a revolutionary approach to psychological health and wellness called acceptance and commitment therapy (ACT), this fully revised and updated second edition offers compelling new exercises to help you create the conditions for your own genuine happiness and peace of mind. You'll learn how your mind can trap you, keeping you stuck and struggling in anxiety and fear. You'll also discover ways to nurture your capacity for acceptance, mindfulness, kindness, and compassion, and use these qualities to weaken the power of anxiety and fear so that you can gain the space do what truly matters to you. Now is the time.


Nobody chooses anxiety. And there is no healthy way to "turn off" anxious thoughts and feelings like a light switch. But you can learn to break free from the shackles of anxiety and fear and take back your life. The purpose of this workbook is to help you do just that. Your life is calling on you to make that choice, and the skills in this workbook can help you make it happen. You can live better, more fully, and more richly with or without anxiety and fear. This book will show you the way.


--


Recent studies support for the effectiveness of ACT-based self-help workbooks as a low-cost treatment for people experiencing anxiety. (Ritzert, T., Forsyth, J. P., Berghoff, C. R., Boswell, J., & Eifert, G. H. (2016). Evaluating the effectiveness of ACT for anxiety disorders in a self-help context: Outcomes from a randomized wait-list controlled trial. Behavior Therapy, 47, 431-572.)

Productspecificaties
Inhoud
Taal

Engels

Bindwijze

E-book

Druk

2

Verschijningsdatum

april 2016

Afmetingen

Afmeting: 26 x 20,3 x 1,9 cm

Ebook formaat

Adobe ePub

Illustraties

Met illustraties
Betrokkenen
Lees mogelijkheden
Lees dit ebook op

Desktop (Mac en Windows) | Kobo e-reader | Android (smartphone en tablet) | iOS (smartphone en tablet) | Windows (smartphone en tablet) | Overige e-reader

Ebook formaat

Adobe ePub
Overige kenmerken
Studieboek

Ja
Je vindt dit artikel in