Ga naar zoeken
Ga naar hoofdinhoud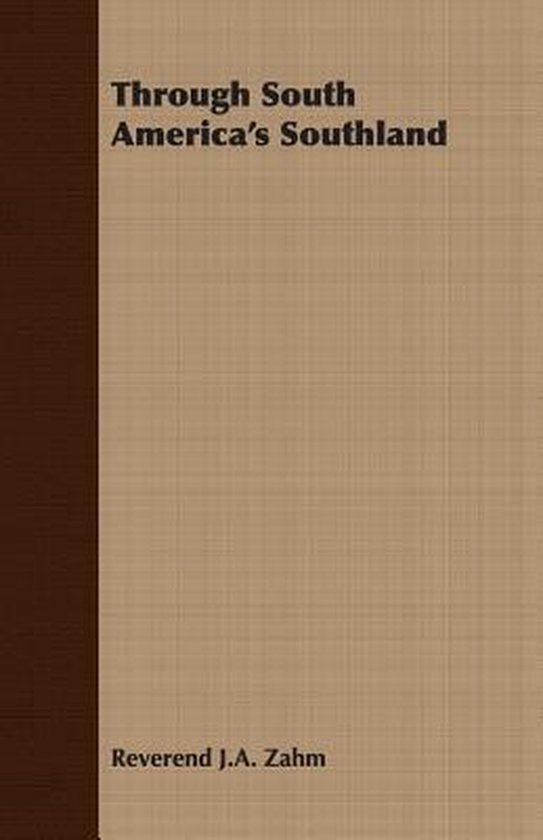 Samenvatting
tmrmrwa THK THROUGH SOUTH AMERICAS SOUTHLAND WITtt AN AMOUNT OF THE ROOSEVELT MIRNTWW KXPKMTWN TO MUTtt AMERICA tV THE HEVKRKND, T. A. ZAITM, O. S. C., PH. D. H, Jf, M03CANS or w ti WWI H ANn IM WN TB MAODALKNA, ALOICU AHDWl A WO WH TttJI AMA K M t 4UMHT OF WXTY-WVK ItUMTKATIONS NEW YORK AND LONDON D, APPLETON AND COMPANY 1010 have parsed wanife landex and wanf fl y fatf and and chcrehed wanye full sfratoifle place, and hare, hot n wany a fitlle, ode honourable, eaMiHtHt e Now I nm vo MM home, fo r v fi. And thus record in l the, tit we l aw. l, I have, fulfilled these thiitttjex and w r hem written in this bokCt a. v it woutdc twme info wy Mat JOHN FOREWORD It is now three and thirty years since duty first led me to our sister republic of Mexico. The interest which I had previously felt in, the achievements of the Conquistadores was greatly en haneed by my sojourn among their descendants, in the valley o Anahuae, and has since continued to grow with the parsing years. Since this first visit to Mexico, other duties coupled with special research in the religious, educational and social condition of the peoples of Latin America have led to my following iu the foot steps of the Conquistadors from the Strait of Juan do Fuca to the arid plains of Patagonia and from the source of the Amazon, in the Peruvian Cordillera, to its broad estuary four thousand mileft distant Thus, through a strange combination of circum stances, I have been A palmer, as ye HO, Wlriohfl of my lyfo much part have pent In many a fayro tuul film 1 nutria, AH piljsrmw lo of good intent Art account of NOIIM of my long peregrinations has been given in my two previous books, Up the Orinoco and Down the Mag datana and Alongtho Awlt k H and Down the Amazon. 1 The prtmcnt work oonipMcK tlw trilogy which I had in contemplation whim, nearly a decade ago, f began tho first volume of tho Beries bearing tho gwwral title oE Following the CoftquuitadoreH. It WftH my good fortune, when about to Htart on my lant journey to the nouthern continent 1o be able to enlist Colonel RooHuvcItH intorcHt in lh wild of Kouth Amtr a, In the firnt of tho fol lowing chaptWH I havo given a brief uceount of tho origin and organisation of our xpcdition an expedition whleh gradually d w lopful from a nnmll ban l into a largo company o nearly Publinhetl untUT tho pwudtmym of II J. vii FOREWORD two score persons and which has since become known as The Roosevelt Scientific Expedition to South America. The scientific results of this expedition have been given by my distinguished associate in his interesting work, Through the Brazilian Wilderness. For this reason, I have in the present volume confined myself, almost entirely, to a narrative of the in cidents of our journey and a description of the places which we visited together. In this, as in my preceding books on South America, I have had little to say of the material, political or economic conditions of the countries through which we journeyed. These subjects have frequently been discussed by statisticians and specialists. My interests have been rather in the history, the poetry and the romance of the places visited. For, with the ex ception of Spain, the motherland of the great explorers of, and ad venturers in so much of the Western Hemisphere, there is no land in the world which is so glamouring as that vast region which witnessed the brilliant feats of arms and the marvelousachieve ments of a Cortes, a Quesada, a Pizarro, a Valdivia, an Alvar Nunez Cabeza de Vaca. Nor is there another land which casts such a spell on the traveler who has read the life story of these marvelous men whose ardent vitality and generous enthusiasm impelled them to undertake and to achieve what less courageous natures would have deemed impossible. They were indeed makers of history such as have been but few men in the annals of our race...
Productspecificaties
Inhoud
Taal

Engels

Bindwijze

Paperback

Verschijningsdatum

maart 2007

Aantal pagina's

608 pagina's

Illustraties

Met illustraties
Betrokkenen
Auteur(s)

Uitgever
Overige kenmerken
Extra groot lettertype

Nee

Gewicht

763 g

Verpakking breedte

140 mm

Verpakking hoogte

34 mm

Verpakking lengte

216 mm
Je vindt dit artikel in
Verwacht over 10 weken
Levertijd
We doen er alles aan om dit artikel op tijd te bezorgen. Het is echter in een enkel geval mogelijk dat door omstandigheden de bezorging vertraagd is.
Bezorgopties
We bieden verschillende opties aan voor het bezorgen of ophalen van je bestelling. Welke opties voor jouw bestelling beschikbaar zijn, zie je bij het afronden van de bestelling.
Tooltip
Verkoop door bol.com
Prijs inclusief verzendkosten, verstuurd door bol.com
Ophalen bij een bol.com afhaalpunt mogelijk
30 dagen bedenktijd en gratis retourneren
Dag en nacht klantenservice