Ga naar zoeken
Ga naar hoofdinhoud
The Chronicles of a Discerner
EBOOK
Tooltip
Ebooks kunnen worden gelezen op uw computer en op daarvoor geschikte e-readers.
How to grow spiritual muscle in Discerning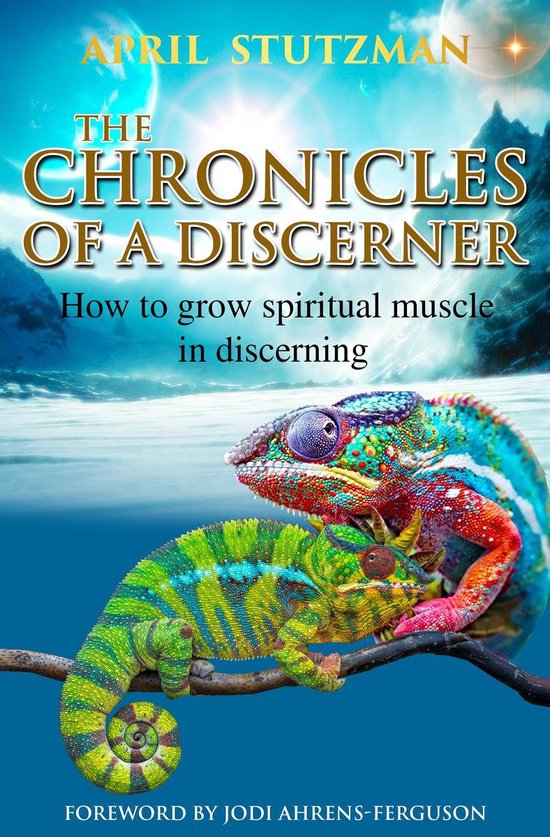 Ebooks lezen is heel makkelijk. Na aankoop zijn ze direct beschikbaar op je Kobo e-reader en op je smartphone of tablet met de gratis bol.com Kobo app.


Samenvatting
So I am a discerner, now what? Maybe that was your question as you picked up this book. Perhaps you are more mature in discernment and surprised that someone has written about it, but you are reading it out of curiosity. Either way, the Holy Spirit is going to meet you where you are! Holy Spirit has something amazing in store for you, to help you navigate this gift. I feel His heart on it. Many discerners have had the gift since birth but have been unsure of what they carry. They have been misunderstood, isolated, and rejected.
Here are some insights to this book:
What Is Discerning of Spirits
Help, What Do I Feel
Discerning the Angels
Discerning the Holy Spirit
Discerning Human Spirits / Motives
Discerning Demons
Discerning the Glory
If you are one seeking to be mentored in the things of the Spirit the good news is you hold in your hand the priceless personal insights of one who has gone before you. In this book, April Stutzman reveals her very personal journey of discovery into the Discerning of Spirits. Not many people are prepared to share what you will read here for fear of being ridiculed, thought strange, or a misfit. However, if you have ever picked up thoughts that were not your own, received unexplainable feelings on certain parts of your body, or sensed or seen angels then it's likely you were operating in the discerning of spirits. April provides wisdom in how she learned to navigate these experiences. The sad truth is many misunderstand these glimpses into the world of spirits around them and consequently fail to reach the fullness of their spiritual potential. Discerning of spirits is a complimentary gift and for that reason, it is often overlooked. However, this gift of the Holy Spirit enhances and fine-tunes all the other gifts including deliverance, counsel, dream interpretation, and the delivery of prophecy. This is a timely and easy-to-read journey of discovery that will add years of experience and broaden your personal understanding into the multi-faceted voice of God's Spirit.
Adrian Beale and Adam F Thompson
Authors of The Divinity Code to Understanding your Dreams and Visions
thedivinitycode.org
It would be difficult to imagine a better moment in history for a book on the subject of discerning of spirits. With the current seemingly continual conflict between political ideologies, economic systems, gender identities and identity politics, sexual morays, and the pervasive role of government in every area of life we must be able to see the world through God's eyes and act decisively and confidently by His grace.
Traditional mindsets will not show us how to live in these chaotic times. We must know God's will and to be able to articulate it against every vain philosophy and worldly orientation to be overcomers.
I heartily recommend April Stutzman's book, The Chronicles of a Discerner, as a helpful guide through the confusing maze of modern demonic agendas that besiege today's professing Christians at every turn.
Joan Hunter Author/Healing Evangelist
host Miracles Happen TV show
As the need for discernment increases in this hour, many are becoming aware they carry this gifting of discerning of spirits. The Chronicles of A Discerner is a great book that introduces, breaks down, and gives articulation to this gift. This a great tool for any level, but especially those stepping into the gifting of discerning of spirits. Those growing in this gift will gain greater confidence and gain a greater assurance they're not alone in this gifting. It's normal!
Madeline James, founder of Madeline James Ministries, and author of Unlocking Your Prophetic Voice
Chronicles of a Discerner is a practical yet powerful guide that will help you gain an understanding of the gift of discernment in greater depths. April walks you through her own personal journey of this unique gift and shares how she grew "spiritual muscles" to carry the weight of what the Lord has shown her over the years of cultivating a beautiful and personal relationship with the Holy Spirit. April also helps you to navigate what you may already be experiencing or will experience in your own life and calling. Not only will this book give you language, but it will also stir up a hunger to go after an intimate relationship with the Spirit of the Living God and to partner with Him in everything that you discern. Get ready to learn how to walk out this gift in the love of the Father!
Teryn Yancey, Co-Founder of Glory Culture International
April Stutzman has written a book about discernment that is not a theological dissertation but birthed from the fires of trial. God has raised up his daughter as a prophetic voice to impart to the nations of the world. This teaching comes from many personal battles that she has fought and won. I heard a minister say that the Word of God is not on trial; because the Word of the Lord will try us like the Word tried Joseph before he became prime minister of the entire world. This is the work that you hold in your hand.a life that is being tried through the gift of discernment. This gift will deliver us from death as we yield to the Holy Ghost. April Stutzman has this assignment as a prophetic deliverer to help free the people of God from demonic bondages. This book will help you understand pitfalls and principles as the gift of discernment is developed through usage. This book will enlighten and validate your walk in the Spirit as the gift of discernment increases in the glory.
Apostle Clinton C. Baker Co-Founder of Valiant Ministries International, Inc.
I highly recommend April's new book, The Chronicles of a Discerner. April is an extraordinary discerner and uses extravagant wisdom in discerning. The tips April shares in this book are a blessing to all who read it. Teaching any level discerner to stretch and grow. Pulling you to a higher level of discerning of spirits in the days we are living in.
Joanna Beck
Joanna BeckMinistries
Wow...this book is a great simple read‼️ April's experiences were the Holy Spirits soil for His seeds to grow and mature her in this gift. She is precise and teaches along the way, as she navigates through her journey. This is an anointed and very necessary book in the hour we are living in. I highly recommend it‼️
Constance J. Bounds
Gods Eagles Ministry
Audio Preview Segment https://youtu.be/NlNbKQIyUtg
About the Author
April Stutzman is co-founder with her husband Richard Stutzman of Kingdom Flame Ministries. She is a powerful deliverance minister and prophetic voice. April shares the heart of the Father to see people walk into wholeness and activated in their destiny. Currently, April and Richard are equipping the body of Christ through webinars and meetings. They love to activate people in healing, prophetic, and deliverance ministry.
www.kingdomflameministries.com
Productspecificaties
Inhoud
Taal

Engels

Bindwijze

E-book

Verschijningsdatum

september 2020

Ebook formaat

Adobe ePub

Illustraties

Nee
Betrokkenen
Auteur(s)

Uitgever
Lees mogelijkheden
Lees dit ebook op

Android (smartphone en tablet) | Kobo e-reader | Overige e-reader | Desktop (Mac en Windows) | iOS (smartphone en tablet) | Windows (smartphone en tablet)

Ebook formaat

Adobe ePub
Overige kenmerken
Studieboek

Ja
Je vindt dit artikel in
Vergelijk artikelen
Waar wil je dit mee vergelijken? Je kan in totaal vijf artikelen kiezen.

Er is nog plaats voor

andere artikelen.

ander artikel.