Ga naar zoeken
Ga naar hoofdinhoud
The Complete Set of The Cowboys of Ransom Creek
EBOOK
Ebooks kunnen worden gelezen op uw computer en op daarvoor geschikte e-readers.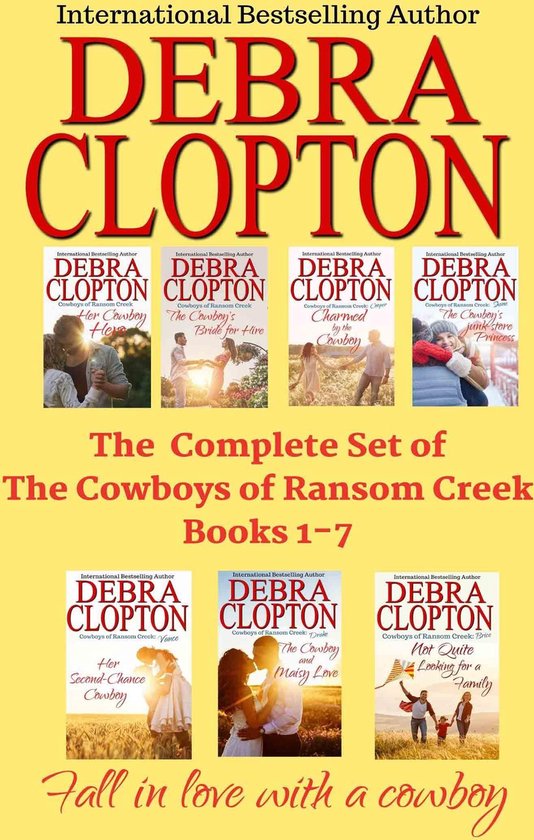 Ebooks lezen is heel makkelijk. Na aankoop zijn ze direct beschikbaar op je Kobo e-reader en op je smartphone of tablet met de gratis bol.com Kobo app.


Samenvatting
HER COWBOY HERO, Book One
Rodeo bronc supplier Lori Calhoun has struggled to live up to expectations after her father's sudden death. When a trailer load of her star broncs disappears, the Knight Agency steps in to investigate.
Foreman of the Calhoun Ranch, Trip Jensen has watched Lori struggle to keep up with the demands of the ranch and the rodeo stock. He's always admired her and loved her—but he's kept that to himself. She was the boss's daughter and is now the boss…off-limits for a cowboy like him. When more stock begins to disappear from the ranch, they must work together to solve the mystery. Unable to know who on the ranch to trust Trip enlist the Presley brothers from the neighboring ranch to back him up.
Lori has always admired Trip but he made it clear years ago that he wasn't interested in her as more than a friend. Now, he sticking close and she's finding it hard to concentrate on the danger and not the man.
Can love blossom between them before time runs out?
THE COWBOY'S BRIDE FOR HIRE, Book Two
Single males in need of a bride for a day? This is strictly an at-your-service business proposition. Absolutely no romance involved.
Do you need the eyes of a woman to help plan and/or set up an event with your personal interest and taste in mind, but with an added touch of your bride—
if you had one? Then call Bride for Hire and let me do the work…
Jilted twice, Bella Reese has no plans to find out if three's the magic number. She's done with men. But she's always loved the idea of being a bride, setting up house, planning parties, making sure things are pretty and homey—the perfect nest for a home…and she's determined not to give up on that dream. Six months after her final wedding fiasco, she's turned a new leaf and opened her business, Bride for Hire. So far she's been amazingly busy with corporate events, with no "homey" entering the equation. Until now…
After being jilted by his ex, rancher Carson Andrews will never make the marriage mistake again. But now his daughter is turning five and he wants to make her fifth birthday special and redecorate his ranch house to make it more "homey" for a growing little girl. The irony of his situation is he lives on the outskirts of Bride, Texas—the legendary home of the jilted bride…a small town south of Fort Worth.
When his cousin Cooper Presley shows him the ad from a Fort Worth newspaper, it's everything he's looking for—even the plainly stated absolutely no romance involved. Carson makes the call.
It sounds like the perfect plan—until he meets Bella.
COOPER: CHARMED BY THE COWBOY, Book Three
Romance, cowboys, rodeo, ranching and wild mustangs…the Presley men, aka the cowboys of Ransom Creek, will win your heart and have you longing for Texas.
After making a major dating mistake, Cooper Presley has sworn off women. But then he meets his new neighbor and she's making his new "no dating policy" hard to abide by. She's special and he knows it, but what's he going to do about it?
Beth Lee is happy to settle into her new property with her baby goats and her dreams of a small productive farm. Forced to hide from her ex-boyfriend, she isn't looking for romance of any kind. Especially with a cowboy with a jealous ex of his own. But after Cooper rescues her baby goats she can't get the handsome cowboy off her mind.
When her past catches up to her, Cooper Presley comes to her rescue. Now, despite all the rumors and the jealous ex's, Beth is at risk of falling in love with the sexy cowboy.
The small town of Ransom Creek is buzzing with rumors, a little suspense…and a lot of speculation that Cooper Presley might be the first of those handsome Presley men to fall in love.
SHANE: THE COWBOY'S JUNK-STORE PRINCESS, Book Four
Dumped by her fiancé, Jenna Emory decides it's time to visit her Aunt Sally in Ransom Creek. Maybe there she can decide what her next move should be. Though her aunt has been urging her to join her in the "junk" business for years she's certain that small town life isn't for her. To ward off her aunt's matchmaking she decides not to tell her the engagement is off.
For as long as he can remember, Shane Presley's aunt and her friend, Sally Ann have been hoping to fix him, or one of his brothers, up, with Sally's niece. The only problem-she's a city gal who recently dashed their dreams by getting engaged to someone else. But, after rescuing her from her car on a freezing winter night, Shane finds suddenly that he is as disappointed as the aunts are that she's engaged.
Determined not to stay in Ransom Creek, Jenna is fighting not to fall in love with the town or the cowboy who rescued her when she first arrived. She's a city girl with a big career in advertising. She is not a "junk" dealer…
Despite it being the coldest winter in years, sparks are flying in Ransom Creek as Shane and Jenna fight their attraction to each other.
He's a whole lot of country, and she's a whole lot of city…can love bring them together?
VANCE: HER SECOND-CHANCE COWBOY, Book Five
Speculation is out of control and running rampant in Ransom Creek about the new waitress at the Goodnight Café. What's her story?
Libby Smith, aka Libby Dunaway, can't catch a break. She's been on her own since she was seventeen and has struggled but made it, until everything caught up to her… Now, hiding out in the small town she hitchhiked to after the unexpected happened, she's hoping to lay low until it's safe to go home, if ever. Thankfully, the townsfolk are nice and the cowboys too…especially one who totally throws her off every time he walks into the room.
Professional bronc rider Vance Presley is at the top of his profession when he comes home for his brother's wedding and sees the new waitress at the café again. She's cute and nervous when he's around, dropping things and freezing up and totally adorable. Funny thing is, every time she looks at him with those big blue eyes of hers, he can hardly think straight himself.
When she shows up at his brother's wedding, he asks her to dance…and that's when things spin out of control.
Sweet romance is blooming in Ransom Creek, one cowboy at a time. Enjoy a good, clean and wholesome romance series readers are falling in love with!
DRAKE: THE COWBOY AND MAISY LOVE, Book Six
She's full of life and made for adventure. He's built from family responsibilities and devotion to commitments.
The last thing Drake Presley needs is to be attracted to the lavender-eyed beauty with a teasing tongue and no sense of what responsibility means. She's a roamer built for leaving. Only problem—he can't stop thinking about her, and despite the fact that they rub each other the wrong way, she seems to have decided that it's her all-fired duty to loosen him up.
Free-spirited Maisy Love is determined to see all fifty states, traveling in her refurbished travel trailer as she cooks her way across the country. Focused on her internet show, On The Road with Maisy Love, she's found the perfect place for her next show, the Goodnight Café. The fact the place is full of handsome cowboys is an added bonus for her viewers.
Trouble is, she tangled with a skunk and a handsome cowboy with serious green eyes, and her world just turned upside down. A relationship is not part of her plans.
Too bad for her. Drake Presley is gorgeous, tempting, and despite smelling like a skunk, he draws her like a bee to honey water.
Fireworks like never before are shooting off this summer and it's not from the town celebration. Can these two opposites come to an agreement on the subject of love?
BRICE: NOT QUITE LOOKING FOR A FAMILY, Book Seven
Romance, cowboys, ranching, and wild mustangs...the Presley men, aka the Cowboys of Ransom Creek, will win your heart and have you longing for Texas. Don't miss the final book in this satisfying series!
His family is changing and growing with happily-ever-afters surrounding Brice Presley. He's happy for his brothers and his sister, and feeling restless to make a mark on his own future, but he's not ready to settle down. He's planning to branch out with his own ranch, until his plans get derailed when the ranch he's looking to buy is rented out to a spunky beauty and her two children. Determined to get the deal done, he's not sure how he'll manage buying the property and not coming out the bad guy.
Tara Quinn has plans to get her horse business up and running and then to buy the ranch she's leasing. She's hoping her landlord will make her a deal and not counting on the hunky, handsome cowboy from across the road wanting to boot her from the property and take it for his own. And she's certainly not counting on the attraction that has them both about as nervous as cats on hot tin roofs. Romance is the last thing she wants, especially with the man she sees as the obstacle between her providing her kids with the future they deserve or starting over again.
Love is looking about as likely as a rainstorm in the middle of a Texas drought...but miracles do happen.
Productspecificaties
Inhoud
Taal

Engels

Bindwijze

E-book

Verschijningsdatum

mei 2019

Ebook formaat

Epub zonder kopieerbeveiliging (DRM)
Betrokkenen
Auteur(s)

Uitgever
Lees mogelijkheden
Lees dit ebook op

Android (smartphone en tablet) | Kobo e-reader | Overige e-reader | Desktop (Mac en Windows) | iOS (smartphone en tablet) | Windows (smartphone en tablet)

Ebook formaat

Epub zonder kopieerbeveiliging (DRM)
Je vindt dit artikel in