Ga naar zoeken
Ga naar hoofdinhoud
Women Who Run With the Wolves
EBOOK
Tooltip
Ebooks kunnen worden gelezen op uw computer en op daarvoor geschikte e-readers.
Myths and Stories of the Wild Woman Archetype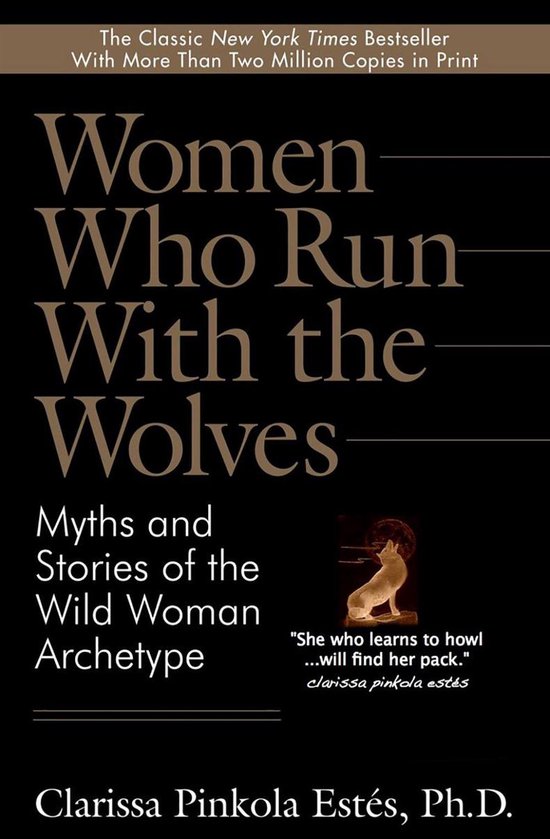 Ebooks lezen is heel makkelijk. Na aankoop zijn ze direct beschikbaar op je Kobo e-reader en op je smartphone of tablet met de gratis bol.com Kobo app.


Samenvatting
''Within every woman there is a wild and natural creature, a powerful force, filled with good instincts, passionate creativity, and ageless knowing. Her name is Wild Woman, but she is an endangered species. Though the gifts of wildish nature come to us at birth, society's attempt to 'civilize' us into rigid roles has plundered this treasure, and muffled deep, life-giving messages of our own souls. Without Wild Woman, we become overdomesticated, fearful, uncreative, trapped.''


In her now-classic book that spent 144 weeks on the New York Times hardcover bestseller list, and is translated into 35 languages, Clarissa Pinkola Estés, Ph.D., shows how woman's vitality can be restored through what she calls ''psychic archaeological digs'' into the ruins of the female unconscious. Dr. Estés uses her families' ethnic tales, washed and rinsed in the blood of wars and survival, multicultural myths, her own lyric writing of those fairy tales, folk tales, and stories chosen from her life witness, and also research ongoing for twenty years… that help women reconnect with the healthy, instinctual, visionary attributes of the Wild Woman archetype.


Dr. Estés collects the bones of many stories, looking for the archetypal motifs that set a woman's inner life into motion. Her ''La Loba'' teaches about the transformative function of the psyche; in ''Bluebeard,'' we learn what to do with wounds that will not heal; in her literary story ''Skeleton Woman,'' we glimpse the mystical power of relationship and how dead feelings can be revived; ''Vasalisa the Wise'' brings our lost womanly instincts to the surface again; ''The Handless Maiden'' recovers the Wild Woman initiation rites; and ''The Little Match Girl'' warns against the insidious dangers of a life spent in fantasy. These and other stories focus on the many qualities of Wild Woman. With them, we retrieve, examine, love, and understand her, and hold her against our deep psyches as one who is both magic and medicine.


In Women Who Run With the Wolves, Dr. Estés has created a new lexicon for describing the female psyche. Fertile and life-giving, it is a psychology of women in the truest sense, a knowing of the soul.


Clarissa Pinkola Estés, Ph.D., is an internationally known poet, post-trauma recovery specialist, senior training psychoanalyst [Jungian], and cantadora [keeper of the old stories] in her mestizo Latina tradition. Her doctorate is in ethno-clinical psychology / indigenous history from The Union Institute. She is an award-winning author both performance art and spoken word.


PRAISE FOR WOMEN WHO RUN WITH THE WOLVES


''I am grateful to Women Who Run With the Wolves and to Dr. Clarissa Pinkola Estés. The work shows the reader how glorious it is to be daring, to be caring, and to be a woman. Everyone who can read should read this book.''

—MAYA ANGELOU


''A deeply spiritual book . . . She honors what is tough, smart, and untamed in women. She venerates the female soul.''

—The Washington Post


''Women Who Run With the Wolves isn't just another book. It is a gift of profound insight, wisdom, and love. An oracle for one who knows.''

—ALICE WALKER


''An inspiring book, the 'vitamins for the soul' [for women] who are cut off from their intuitive nature.''

—San Francisco Chronicle


''Millennia of humans have gathered around fires to hear words that transferred hard-won wisdom and allowed dreams of unlimited possibilities. In a modern world that limits wisdom to 'facts,' and women's access even to those, Dr. Estés has restored the fire—for us all.''

—GLORIA STEINEM


''Stands out from the pack . . . This book will become a bible for women interested in doing deep work. . . . It is a road map of all the pitfalls, those familiar and those horrifically unexpected, that a woman encounters on the way back to her instinctual self. Wolves . . . is a gift.''

—Los Angeles Times

Productspecificaties
Inhoud
Taal

Engels

Bindwijze

E-book

Verschijningsdatum

januari 2017

Ebook formaat

Adobe ePub
Betrokkenen
Auteur(s)

Uitgever
Lees mogelijkheden
Lees dit ebook op

Android (smartphone en tablet) | Kobo e-reader | Desktop (Mac en Windows) | iOS (smartphone en tablet) | Windows (smartphone en tablet) | Overige e-reader

Ebook formaat

Adobe ePub
Overige kenmerken
Studieboek

Nee
Je vindt dit artikel in
Reviews
5,0
van de 5
2
0
0
0
0
Vrouw? Lees dit boek.

Praktisch toepasbaar
Heldere boodschap

Ben je een vrouw? Lees dit boek. Houd je niet van lezen? Lees het toch!

Vind je Engels lezen lastig? Mijn Kobo e-reader geeft direct de vertaling van een woord naar het Nederlands wanneer ik kort mijn vinger op dat woord houd.

Zeer goed

Als pluspunt zou ik zeggen: heldere boodschap.
Vergelijk artikelen
Waar wil je dit mee vergelijken? Je kan in totaal vijf artikelen kiezen.

Er is nog plaats voor

andere artikelen.

ander artikel.